Heavy-lift rocket readied for 2nd mission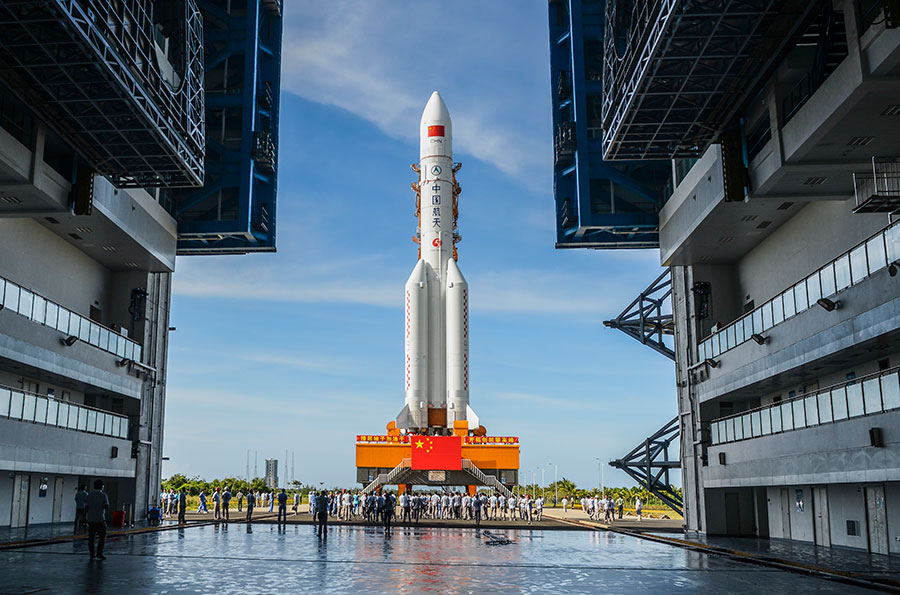 A Long March 5-Y2 rocket is seen at the Wenchang Space Launch Center in Hainan province on Monday.Wei Jinghua / For China Daily
Long March 5 is also expected to send lunar probe later this year
A Long March 5 heavy-lift carrier rocket will take flight sometime between July 2 and 5, following the first launch of the model in November, according to Chinese space officials.
The China National Space Administration said the Long March 5-Y2 rocket, carrying the Shijian 18 communications satellite, was moved to its launch pad at the Wenchang Space Launch Center in Hainan province on Monday morning.
The name Y2 indicates it is the second mass-production rocket in the Long March 5 family.
A news release from the administration said engineers will conduct final tests and inspections before pumping fuel into the rocket.
The 57-meter rocket, the longest in China's carrier rocket family, was transported in April by two ships, Yuanwang 21 and Yuanwang 22, to Wenchang from the production facility in Tianjin.