Entrepreneurship alliance hosts first major summit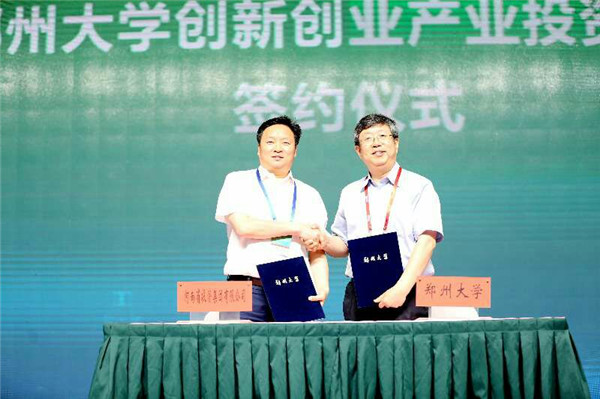 The opening ceremony of "Innovation and Entrepreneurship Education Alliance of China Annual Meeting (IEEAC) 2017" commenced at Zhengzhou University, Central China's Henan province, on June 25, 2017. [Photo/chinadaily.com.cn]
The opening ceremony of "Innovation and Entrepreneurship Education Alliance of China Annual Meeting (IEEAC) 2017" commenced at Zhengzhou University, Central China's Henan province, on Sunday morning.
Participants, including representatives of the Innovation and Entrepreneurship Education Alliance of China, educational experts and scholars, and business representatives, gathered to share their ideas on innovation and entrepreneurship in education.
Activities such as the Innovation and Entrepreneurship Education Forum with principals and a summit forum for entrepreneurs will occur throughout the event.
As the first summit organized by the Innovation and Entrepreneurship Education Alliance of China, Sun Hongbin, secretary general of the IEEAC, said Tsinghua University initiated the alliance that aims to build a platform for universities to share their experiences in innovation and entrepreneurship, contributing to the improvement of educational reform and nurture students' innovative and entrepreneurial spirit.
Sun also released a blue book and report of Innovation and Entrepreneurship Education in China during the opening ceremony, based on the development of innovation and entrepreneurship among Chinese universities and colleges in 2016.
Lin Huiqing, vice minister of education, said innovation and entrepreneurship education is important in the development of higher education in China.
Xu Jichao, vice-governor of Henan province, said that as the largest population in China, the local government paid close attention to this kind of education.
"Henan has emerged through a large number of outstanding enterprises in science and technology, and fosters new businesses such as cross-border e-commerce," Xu added.
"Holding this meeting is significant. It contributes to promoting Henan's education to a higher level, as well as improving the development of economic and social innovation with more and more universities and companies joining in," said Liu Jiongtian, principal of Zhengzhou University.
Many well-known universities in China, such as Peking University, Tsinghua University, Zhejiang University and Harbin Institute of Technology, could be seen in the alliance's member lists.