Blast at kindergarten gate wreaks havoc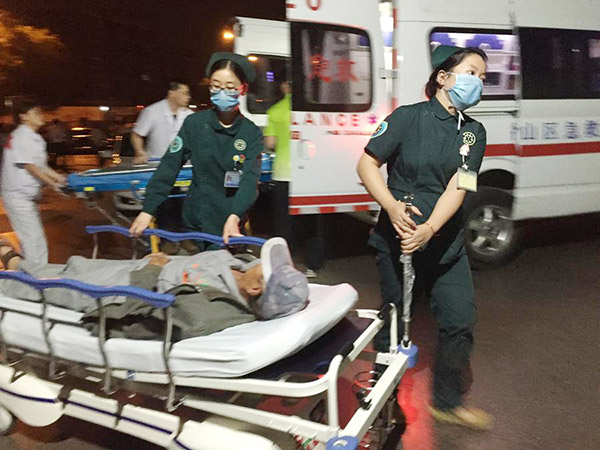 Medical workers transfer an injured man to hospital after an explosion at the gate of a kindergarten in Fengxian county, Jiangsu province on June 15, 2017. At least seven people were killed and 66 others injured. [Photo/Xinhua]
An explosion at the gate of a kindergarten in Fengxian county, Jiangsu province, at 4:50 pm on Thursday left at least seven people dead and 66 injured, nine of them seriously.
Two people were killed at the scene, and the five others died after being taken to a hospital, the Xuzhou city publicity office said in a statement. Xuzhou administers Fengxian county.
It was not yet known late Thursday what caused the blast and there was no clear information on the identities of the dead and injured, the statement said. Neither was there information on how many of the dead and injured were adults and how many were children.
Officials and police officers rushed to the scene and a preliminary investigation of the incident had been completed, the statement said.
The Fengxian county government posted online that no teachers or students were injured or killed during lessons inside the kindergarten. Photos and videos online showed many people lying outside the kindergarten gate after the blast, some of them covered in blood and burned.
A businessman near the kindergarten said he heard the explosion and that many parents were standing outside the gate waiting for their children when it occurred, Beijing Youth Daily reported online.
The newspaper also posted a video showing some injured parents holding their children and sitting on the ground after the blast.
The injured were sent to hospitals in Fengxian and Xuzhou, the Xuzhou publicity office said, adding that medical workers assisted in the rescue work.