Should university campuses be open to the public?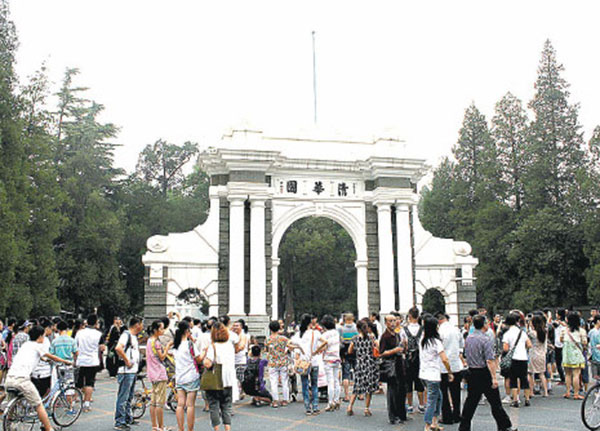 File photo taken on July 2013 shows students, some with their parents, wait to enroll for the new semester at Tsinghua University.[Photo/China Daily]
Unlike universities in Europe and the US that are open to the public and an integral part of local communities, most Chinese universities are fenced off and some do not welcome outsiders.
Last month, Sun Yat-sen University in South China's Guangdong province barred visitors from entering the campus, with the aim of maintaining order and guaranteeing students' and teachers' security.
The move has sparked a nationwide debate on whether university campuses should be accessible to non-students. According to a report by China Youth Daily, 7.6 percent of university students have encountered harassment on campus from people outside the university, while 65.2 percent say their friends have had such an experience.
"When my roommates and I were on the way to cafeteria for lunch at the end of March, three drunk men pointed and laughed at us, with one saying 'shall we drink together?' They were definitely not students based on their looks," said university student Xu Yang in Beijing.
Shanghai student Zhou Peng said he understood that the public wanted to visit universities, but there should be limits. "Many visitors come to my university to look at flowers every spring. The road is packed with students, visitors and vendors. It is hard to tell whether there are dangerous people among them. Plus the crowdedness also poses a safety threat. University is not a scenic spot," Zhou said.
But Xu Jing, a student in Tianjin, holds a different view, saying, "Universities are relatively open and have many exchanges with the society. Is it totally safe to close to the public? I don't think overprotection works."
Universities are mainly for academic research, but they do have a role to play in culture and social influence, according to Han Heng at Zhengzhou University's School of Public Administration. For example, many parents take their children to visit campuses to experience the academic atmosphere.
It is only necessary to regulate visitors if they have a negative impact on teaching, studying, school safety and environment, Han said.
Chinese universities have adopted different measures to improve campus security, such as swipe cards to enter school, putting up warning posters about people who have harassed students before, and educating students to raise awareness of self-defense.