Impoverished farmers get free medical checks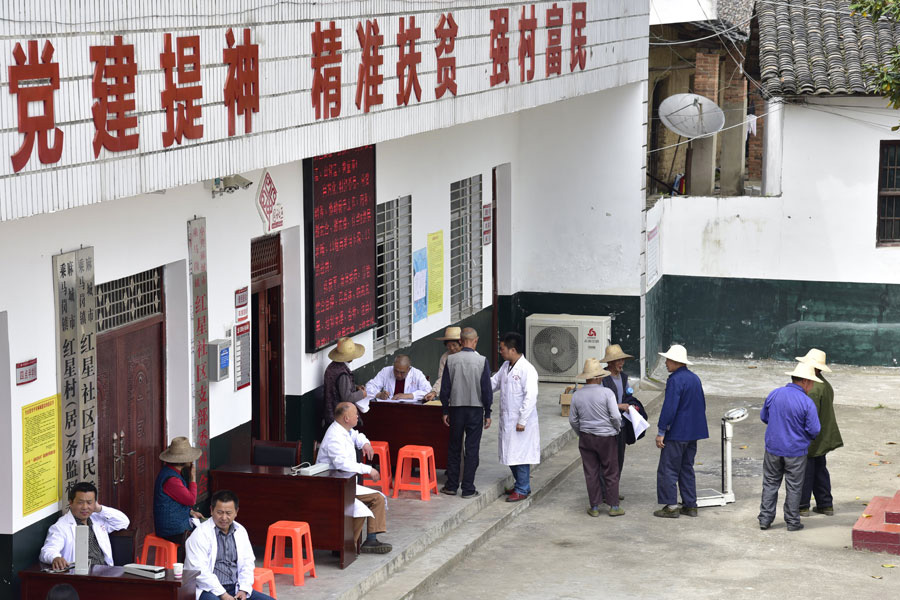 Farmers register for physical examinations in Hongxing community, Chengmagang town, Macheng of Central China's Hubei province on May 2, 2017. [Photo by Wu Yan/chinadaily.com.cn]
If it wasn't for the free physical examination conducted at a clinic in his village, Xiao Yecai would never have realized eating a sugary boiled egg every day would cause him health problems.
"I thought the dish would give my body strength, I did not expected it to worsen my health," said the 64-year-old impoverished farmer, who has always felt weak.
He was diagnosed with anemia and hyperglycemia during the physical examination conducted by a visiting medical team from Chengmagang Town Health Center.
The team traveled to Hongxing community in Central China's Hubei province on May 2, 2017.
Doctor Jiang Peicheng said that farmers are not used to going to the town's hospital, because it's either too difficult for the elderly or they're busy with farming and have no time to go far.
They use native methods to treat disease or improve health, but sometimes their health conditions do not improve and get even worse, Jiang said.
"Physical examination can detect the problem in time."
Xiao was referred to the hospital to have a re-examination. If he is diagnosed with diabetes, he will be added to a watch list of chronic disease patients and asked to measure blood-sugar levels every three months at the village clinic.
Annual free physical examination in villages started in 2009, as part of a national basic public health services project.
In 2015, impoverished farmers became eligible for the free checks, along with chronic disease patients and seniors aged above 65, to prevent them becoming poorer due to illness.
The medical team will visit other 26 villages and communities to provide free physical examinations in the town in a month.