Test pilots chosen for C919 maiden flight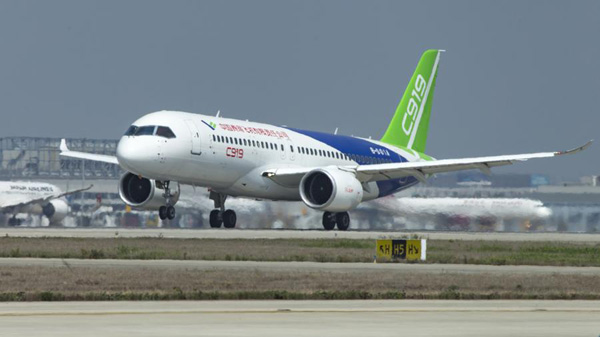 The C919 is in a test gliding at the Shanghai Pudong International Airport on April 23, 2017. [Photo/Xinhua] 
Five test pilots from the test center of Commercial Aircraft Corp of China (COMAC) are the first choice to fly the maiden flight of the Chinese-built passenger jet C919 on May 5.
The C919 is a single-aisle commercial aircraft built for medium-haul flights, with up to 174 seats and twin engines. Its maiden flight will take off from the Shanghai Pudong International Airport.
The test center said the five pilots - Cai Jun (captain), Wu Xin (copilot), Qian Jin (observer), as well as Ma Fei and Zhang Dawei (engineers) - have long flight experience, the newspaper Jiefang Daily reported.
During the preparatory stage, Cai, Wu and Qian were involved in the evaluation of the cockpit. They also carried out two mock flights ahead of the first test flight, and completed slow- and medium-speed gliding tests.
Before joining the test center six years ago, Cai was a pilot at the China Eastern Airlines. So far, he has flown 10,300 hours. Cai said that as a test pilot, flight is only part of his work, he also takes part in finalizing flight plans, verifying flight data and other work.
Besides the five test pilots, the center said it has also prepared a backup team, and will decide the final team on May 5.
Profiles:
Name: Cai Jun
Born: August 1976
First flight: 1997
Total flying experience: 10,300 hours
Graduation: The National Test Pilot School in the United States
Main planes: A320 and ARJ21
Test missions: ARJ21, C919

Name: Wu Xin
Born: May 1976
First flight: 1997
Total flying experience: 11,500 hours
Graduation: The National Test Pilot School in the United States
Main planes: A320 and ARJ21
Test missions: ARJ21, C919

Name: Qian Jin
Born: August 1960
First flight: 1979
Total flying experience: 22,000 hours
Graduation: The National Test Pilot School in the United States
Main plane: B777
Test missions: ARJ21, C919

Name: Ma Fei
Born: January 1985
Total flying experience: 292 hours
Graduation: Test Flying Academy of South Africa
Test missions: ARJ21, C919

Name: Zhang Dawei
Born: March 1984
Total flying experience: 472 hours
Graduation: Test Flying Academy of South Africa
Test missions: ARJ21, C919