Working in high spirits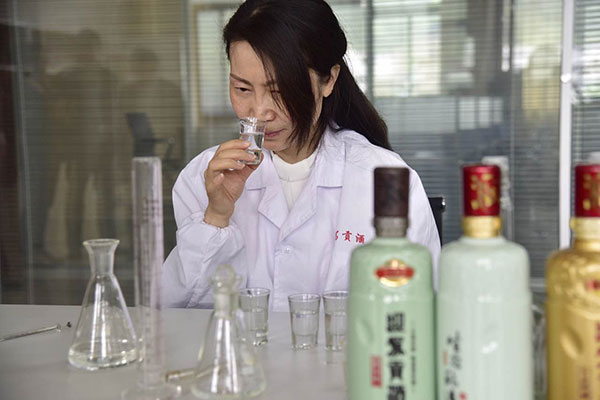 Gao Ling tastes a cup of baijiu in her office at Anhui Yingjia Distillery Co in Lu'an, Anhui province, April 25, 2017. [Photo by Song Wei/chinadaily.com.cn]
Lu'an, Anhui province – Gao Ling swirls a glass of baijiu, Chinese white wine, noting its lucid colour and sweet bouquet before taking a sip.
"Observing the colour, smelling the odor and tasting the flavor are three steps to taste a wine in a nutshell," Gao, a senior wine taster with Anhui Yingjia Distillery Co, a well-known winery in the East China's Anhui province, reveals one of her know-hows to China Daily.
Though in her 40s, Gao's gentle voice suddenly perks up like a young woman as soon as she talks about wine, with a big smile spreading across her face.
"Wine making and tasting is the kind of job that needs a happy state of mind in the first place," she says. "Otherwise, the wine would taste differently."
It's hard to tell whether Gao was born to be a wine taster due to her mild temperament or it is the pleasure of the work that has made her so easygoing and content.
"It's a job that demands patience as well," Gao adds, citing an example that she once spent a whole week deliberating a formula.
Every other day in the afternoon, Gao goes to the factory, opens the lids of wine jars weighing 500 kilograms each, scoops one small cup, tastes, and then grades the wine.
The number of wine jars that she grades is usually between 70 and 80, and the whole process takes at least three hours.
For each sip, Gao downs one third of the wine and spits out the rest. "This way, I can judge the wines without getting drunk."
But the job has its side effects. She has started developing stomach problems. "My tongue often gets numb and I feel nausea", Gao says.
But the health issues have never stopped her.