Region 'full of vigor' like never before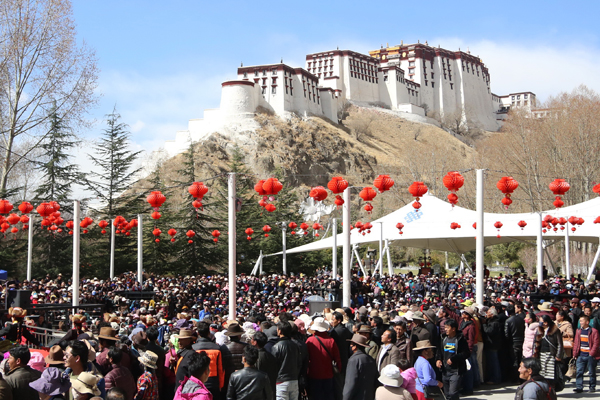 People watch a performance to mark Serfs' Emancipation Day at Dzongyab Lukhang Park in Lhasa, Tibet autonomous region, on Tuesday. [Photo by Daqiong/China Daily]
LHASA - A top government official of the Tibet autonomous region on Monday said Tibet is "full of vigor" and its people are confident that they are on par with others in the nation to achieve a "moderately prosperous society".
"I can proudly say that Tibet is full of vigor like never before. A hundred flowers are in bloom," said Qizhala, chairman of the regional government, using a Chinese expression to describe a liberal and prosperous time.
In a televised speech on the eve of Tibet's Serfs' Emancipation Day, Qizhala said the people of Tibet are commemorating this day to tell the dark history of old Tibet and show the fundamental changes that have taken place in socialist new Tibet.
Serfs' Emancipation Day was established on March 28 by the regional legislature in 2009 to mark the start of Tibetan democracy, which ended the feudal serf system in 1959, freeing 1 million serfs, or 90 percent of the region's population at that time.
Qizhala said Tibet has achieved new progress since the 18th National Congress of the Communist Party of China in 2012. The economy has been growing rapidly with solidarity among ethnic groups, a well-protected environment, improved livelihoods, and a society in peace and harmony, he said.
He said Tibet has redoubled efforts to enhance ethnic solidarity, maintain peace and harmony in Buddhist monasteries and during religious rituals, and help more than 130,000 cast off poverty.
Statistics show Tibet's economy grew by more than 10 percent and fixed assets investment shot up about 20 percent last year, taking a leading place among provincial-level regions nationwide.