School teacher donates bone marrow to save 16-year-old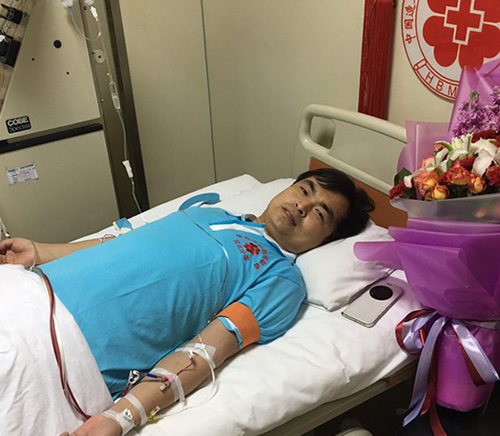 Huo Yanze, 36, a primary school teacher in Guantao county, Handan, Hebei province donates his bone marrow to a leukemia patient in Shanghai.[Photo/Hebei.com.cn]
A school teacher in a remote county in North China has donated his bone marrow to a leukemia patient in Shanghai.
Huo Yanze, 36, a primary school teacher in Guantao county, Handan, Hebei province, joined the China Marrow Donor Program (CDMP) five years ago.
His bone marrow was found to be a match for a 16-year-old leukemia patient in East China's Shanghai in December.
Huo made a decision to donate his bone marrow without a second thought.
"This is exactly the reason why I joined the CDMP in the first place - to save other people's life," he said.
After a series of physical tests, some of Huo's hematopoietic stem cells were collected at a hospital in Shijiazhuang, capital city of Hebei province, and rushed to Shanghai.
This made Huo the 320th bone marrow donor from Hebei and the 87th from Handan since the CDMP was launched.
Founded in 1992, the marrow bank has registered more than 1 million volunteers, mainly Chinese, in its database, becoming one of the world's largest.
Hematopoietic stem cell transplants can treat a variety of blood diseases such as leukemia and anemia. The larger the number of volunteer donors, the higher the possibility for patients to land a match.
In the United States, there are 344 enlisted donors for every 10,000 people, according to the World Marrow Donor Association which was established in 1988.
By contrast, the figure on the Chinese mainland is only 13 out of every 10,000 people.