Marathon maniac off to a running start
A Chinese runner who successfully finished all six of the World Marathon Majors before the age of 40 has her sights set on a new challenge - the world's highest trail-running event.
Zhang Wenjie was athletic from an early age, but she had never experienced marathon running until she moved to the United States to study at Northeastern University in Boston, Massachusetts, in 2007.
Greater Boston is home to the world's oldest annual marathon, having hosted a race every year since 1897. It is one of the six World Marathon Majors - the others being in Tokyo, London, Berlin, Chicago and New York.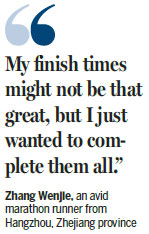 Living so close to such a prestigious event, Zhang could not help but be intrigued. So, with encouragement from her classmates and teachers, she decided to give it a go and qualified for the race in 2015.
A lack of preparation and underestimation of the effort involved almost proved to be her undoing, however.
"A Chinese pop song called Freezing Rain was in my head the whole time as the cold rain slapped across my face," Zhang was quoted as saying by Qianjiang Evening News.
"There are so many 'must-sees' on that course - Scream Tunnel where the girls of Wellsley College cheer loudly for participants and Heartbreak Hill, at the stage of the course where most runners feel depleted - but I could not think about them, all I cared about was reaching the finish line."
She eventually finished in 5 hours and 30 minutes, more than an hour slower than the average for her age group, but the experience galvanized her into improving her technique and participating in more events.
"I felt like it would be wonderful if I could finish all the WMM races before I was 40," she said. "My finish times might not be that great, but I just wanted to complete them all."
To complete the series, Zhang estimates that she invested about 150,000 yuan ($22,000), three-fourths of her annual salary. But she said it was all worth it to cross the finish line of the Berlin Marathon in September - 17 months after she first started.
Zhang now lives in Hangzhou, Zhejiang province, where she works at a finance company, and she is not ready to give up the marathon bug.
Her next goal is to complete the highest running event in the world - the Everest Marathon on Qomolangma, which is known as Mount Everest in the West.
It begins at 5,362 meters above sea level after a 13-day trek to base camp and participants have to overcome altitude sickness, freezing temperatures and strong ultraviolet radiation to compete.
"People say that you are already a winner if you reach the starting line of the Qomolangma marathon," said Zhang. "And I am ready."