Organs to have priority boarding
Donated organs will have priority when it comes to boarding airplanes at all civil airports in China, according to a regulation released by China's top civil aviation authority aimed at better utilizing organs.
Medical staff transporting donated organs should apply with airlines at least four hours before departure, if possible, according to the regulation, released by Civil Aviation Administration of China on Wednesday.
If they fail to apply in advance or fail to arrive at an airport on time, airlines should carry out emergency plans and arrange priority passage for them so they can complete security checks and boarding procedures as quickly as possible, the regulation said.
If they arrive after an airplane has closed its doors, airlines should help them transfer to the next airline, if requested to do so, the regulation said.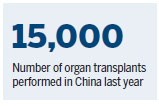 Medical staff should carry organs in special containers as carry-on luggage, and the containers can pass security checks even if they contain liquid that is necessary for preservation of the organs, as long as the liquid poses no hazards to aviation safety, the regulation said.
Airplane is the major mode of long-distance transportation for organs in China, helping to reduce the time needed for transportation of organs to reduce waste, the administration said.
Chen Jingyu, deputy director of Wuxi People's Hospital in Jiangsu province and a leading lung transplant specialist, said the regulation's priority measures for organ transplants are expected to further reduce waste of organs.
"Some major airlines, such as China Southern Airlines and Air China, have already adopted priority passage and boarding for medical staff carrying organs in the past year," Chen said. "But some smaller airlines have failed to do so."
"I think the regulation will result in more airlines in China taking similar actions," he added.
Organs retrieved from donors should be transplanted within the shortest time possible, so medical staff often have to hurry to an airport once they have acquired the organs. Allowing them to board at short notice is beneficial for better utilization of organs, Chen said.
Transport authorities, such as the CAAC and the Ministry of Transport, should ensure priority measures for organ transport, according to a guideline released in May last year.
The number of organ donations in China has increased rapidly since China stopped procuring organs for transplant from executed prisoners at the beginning of 2015, according to Huang Jiefu, former minister of health.
The total number of organ transplants performed in China was expected to reach 15,000 last year, a record high and an increase of nearly 50 percent compared with 2015, according to Huang.