Tibet opens doors to more tourists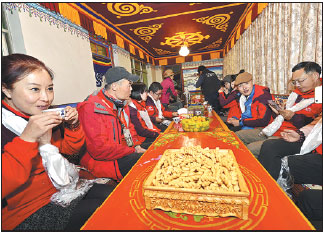 Visitors taste local delicacies at a villager's home in Lhasa, capital of Tibet autonomous region, in November.Liu Dongjun / Xinhua
Tibet is expected to receive more than 25 million tourists and generate tourism revenue of more than 37 billion yuan ($5.34 billion) in 2017, according to the fifth session of the 10th People's Congress of Tibet on Tuesday.
The autonomous region welcomed more than 23 million tourists and tourism revenue reached 33 billion yuan in 2016, annual increases of 14.7 and 17 percent respectively, according to the session.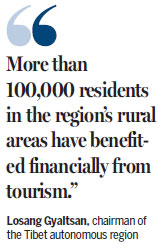 "The region has fully promoted the standardization of tourism services, and the tourism industry has witnessed growth both in quality and effectiveness," said Losang Gyaltsan, chairman of the regional government, when delivering the annual government work report.
"More than 100,000 residents in the region's rural areas have benefited financially from tourism," Losang Gyaltsan said.
Losang Gyaltsan said the region will encourage big tourism enterprises to set up branch companies in Tibet and train more professional tourism workers in the near future.
The regional government has been making efforts to turn Tibet into a world tourism destination in recent years.
"Along with the progress of turning Tibet into a world tourism destination, the region has carried out a plan of developing regional tourism," said Xu Zhuwu, deputy Party chief of the regional government.
With unique natural landscapes and cultures, Tibet has big advantages and potential to develop tourism, Xu Zhuwu said.
In addition to improving the quality of tourism services, the region's many new plans for airlines, railways, roads and supplies have helped develop the tourism market.
Tibet has decided to build 2,000 toilets across the region in 2017, according to the government work report.