Home / China / China Photos
High speed train crew ensures happy journey on the fast track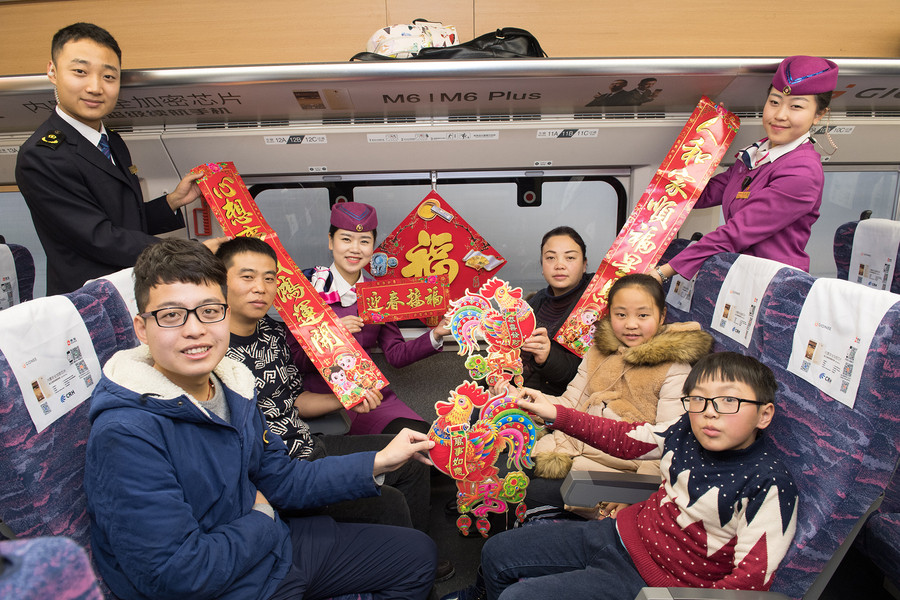 Chen Yao's crew members pose for a group photo with passengers holding Spring Festival decorations in their hands, Guiyang, Guizhou, Jan 4, 2017. [Photo/VCG]
Young faces. Tall figures. All-the-time smiles. Tidy uniforms. They are praised for adding color to high-speed trains in Southwest China's Guizhou province.
They are the young but professional high-speed train crew members who ensure a comfortable and happy journey on the fast track for passengers.
All her crew members are of the post-90s generation, said the 27-year-old head, Chen Yao. Although 27 is still young, 10 years of experience as a train attendant now makes her very qualified for the position.
All their achievements come from diligence and hard work. The crew has to get up at 5 in the morning and work non-stop on the Guiyang-Guangzhou high-speed train for about 10 hours a day, Chen said.
There are more than 200 young stewards and stewardesses like Chen in Guiyang. And now they are ready to serve during the upcoming Spring Festival travel rush, which will begin on Jan 13.