WWII veteran remembers Japanese aggression first hand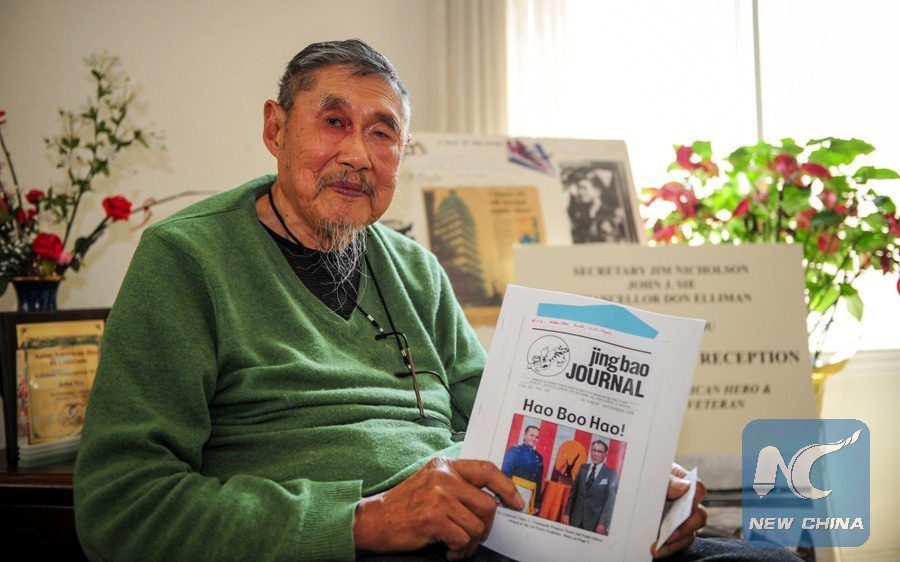 A file photo taken on July 14, 2015, shows the former Flying Tigers vetran John Yee at his home in Denver, the United States. [Photo/Xinhua]
DENVER, the US -- John Yee, a Flying Tigers veteran who just celebrated his 95th birthday, remembers the moment when Japanese bombs fell on Pearl Harbor.
He was in southwest China's biggest city of Kunming at the time, handpicked as one of 30 translators to work with the Flying Tigers there.
"We felt badly for the Americans, but to be honest, we all jumped with joy. It was a day of hope that something might stop the daily bombings of our cities and towns by the Japanese," Yee told Xinhua.
Yee says that his fellow Chinese translators all talked about having "a very powerful ally in the United States, and that we would no longer have to fight the Japanese alone."
During World War Two, Japanese slaughtered hundreds of thousands of innocent people in Nanking, capital of China at that time. Yee was 17-years-old then and living in Kunming.
"It was a horrible, sickening event, and shocked everybody in China. It started a long period of atrocities committed by the Japanese military against innocent Chinese people," Yee said Monday in an open letter to Japanese Prime Minister Shinzo Abe, who will pay a visit to Pearl Harbor later this month.
"Just like Hitler trying to exterminate the Jews in Europe, the Japanese committed genocide against the Chinese," Yee noted. "But Western educators and media have yet to recognize the extent of the atrocities committed by Japan."
Two weeks after the Pearl Harbor attack, the first of General Claire Lee Chennault's 100 planes landed from Burma on a Kunming airstrip just north of the city. And Yee became one of those Flying Tigers as a translator.
The night before the Americans arrived, Kunming had been blown apart by bombs again, as the defenseless Chinese had no recourse but to run for cover. Yee remembers hearing the sound of wailing and screaming throughout the dark, powerless city that night.
"But they were in for a surprise the next time," Yee told Xinhua, with a smile. "The Americans had come, and the slaughter of innocent people would stop," he said.