20m trees planted in desert to protect road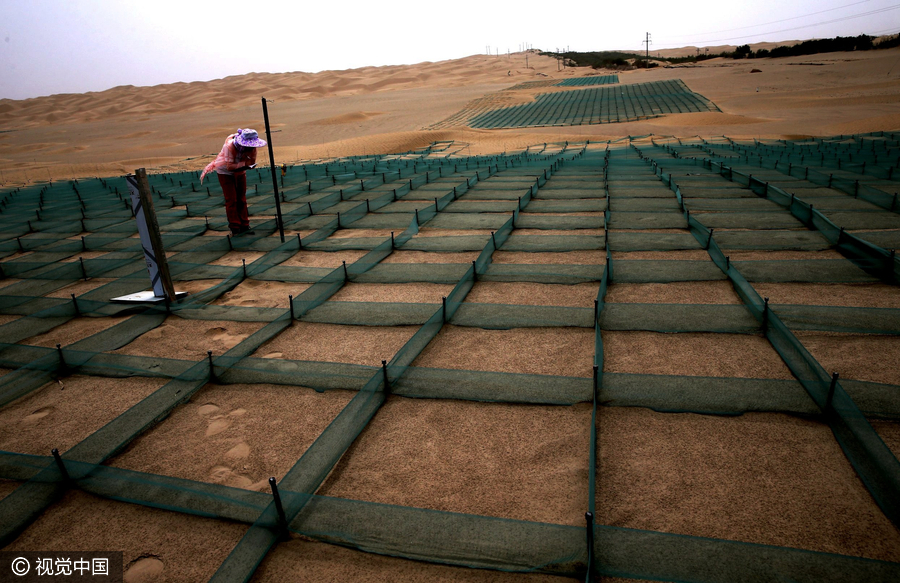 A worker maintains reed grids being developed alongside the road across Taklimakan Desert in Northwest China's Xinjiang Uygur autonomous region on June 15, 2015. [Photo/VCG]
Taklimakan Desert in Northwest China's Xinjiang Uygur autonomous region is the second-largest drifting desert in the world. In 1994, a 565-kilometer road was built across the desert to boost local economy. However, without proper protection, the seven-meter-wide road would be easily engulfed by the sand. Thus, the world's first "green corridor through desert" was developed to guard the road against sand.
With reed grids guarding the sand dunes alongside the road and proper maintenance of green belts, the longest road through drifting desert in the world has been serving as an artery for local transportation.
Given Taklimakan Desert has an annual average rainfall of 25 millimeters and an evaporation 150 times of rainfall, the researchers hand picked out of 70 kinds of high temperature and sand resistant trees rose willow, euphrates poplar and calligonum for local plantation.
More than 20 million trees have been planted alongside the road to keep the sand away and slow down the wind covering an area of 3,516 hectare. Inside the woods, a water station has been built every 10 kilometers for trickle irrigation.