Tiny magnet-controlled device improving diagnosis process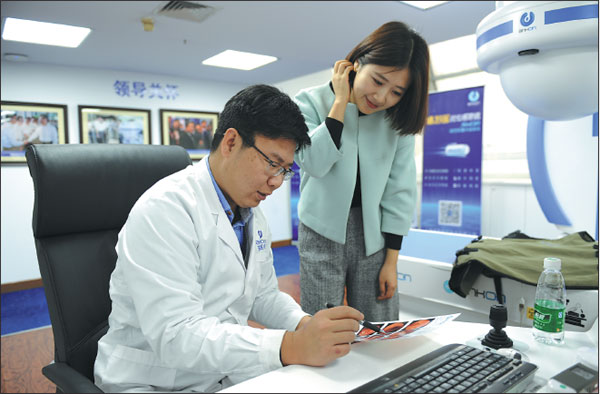 A doctor shows a patient photos of the inside of her stomach taken by NaviCam, the magnetically controlled capsule endoscopy system.Photos Provided To China Daily
Cloud-based system allows patients to choose between locations and doctors
NaviCam, the world's first magnetically controlled capsule endoscope system, will not only reduce patients' pain and discomfort during traditional gastric testing, but will also greatly improve treatment efficiency.
Developed and commercialized by Ankon Technologies Co Ltd, the system received approval from the China Food and Drug Administration in 2013 and has made great breakthroughs in gastric diagnosis and early screening.
"The precise control and positioning functions of NaviCam ensure a complete examination of the stomach," said Ji Pengsong, president of Ankon, which is located in Shanghai's Zhangjiang National Innovation Demonstration Zone.
The medical capsule robot innovatively combines cuttingedge technologies such as sensors, optical imaging, imaging processing, wireless communications and device packaging.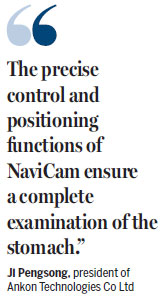 It comprises more than 300 parts and combines over 40 international technological patents.
The technology is three to five years ahead of the rest of the world, according to the developer. Weighing less than 5 grams and looking like a medicine capsule, it can be swallowed with water.
Then the robot inside the capsule takes photos automatically as it passes through the gastrointestinal tract and is expelled through a bowel movement. There is no adverse reaction and patients do not require anesthesia.
The entire inspection procedure is convenient and comfortable, especially for sensitive people, such as children, the elderly, or patients with cardiovascular diseases. An entire gastric examination can be completed in 15 minutes, according to the company.
Each year, about 300 people die from gastroscopies. Risk groups include elderly people and patients with heart or lung diseases. It is more suitable for these people to receive the check using a magnetically controlled capsule endoscope, said Jin Zhendong, a professor at Shanghai's Changhai Hospital.
A double blind clinical trial conducted in a number of leading Chinese hospitals showed that the system's diagnostic accuracy rate was 93.4 percent and its sensitivity was 90.4 percent. So far, the magnetically controlled capsule endoscope system has already been used in more than 300 hospitals and medical centers across the country. It is expected to be available in about 500 hospitals and medical centers, including those in second and third tier cities by the end of 2016.
Cloud platform
In addition to providing a safer and more convenient examination method, Ankon is also looking to expand into internet information technology.
The company has established a nationwide medical network, the first of its kind, which unites experts and scholars in digestology across the country. The platform is able to run a digestive system healthcare database that connects more than 1,000 experts and doctors from the country's top hospitals and medical institutions.
With this internet-based medical service platform, patients will be able to reserve an examination in one hospital and choose an expert in another hospital to diagnose the results. Because the gastric examination photos taken by the NaviCam can be sent to the cloud platform, experienced doctors will then be able to look at these images before making diagnoses and treatment suggestions.
"The platform shortens the distance between doctors and patients, especially those living in remote areas. Patients can also choose the hospitals and doctors they prefer using this platform," said Ji.
In addition to spending more effort on developing medical services based on health big data, the company has also been working on the development of more innovative medical equipment and facilities in treating stomach and digestive diseases.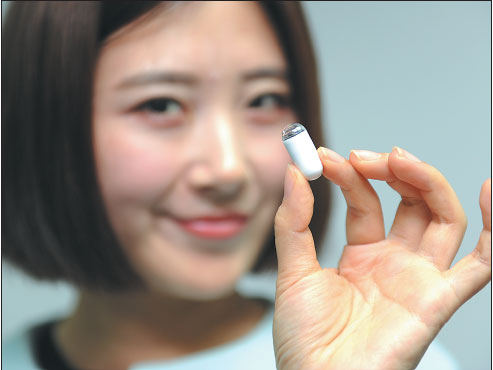 The medical capsule robot combines high-end technologies such as sensors and optical imaging.