Shanghai firm uses big data to create precision medicine
Biotecan Biomedical Technology Co Ltd is working to grow into a new engine of the healthcare industry through the development of medical big data.
Founded in 2008, Biotecan specializes in the integration and analysis of medical data, precision medicine, drug testing and translational medical research.
Precision medicine has become a buzzword around the world. Countries such as the United States and China have formulated medical data for precision medicine.
"The essence of precision medicine is the result of the integration of biotech and digital technology," said Lou Jingwei, president of Biotecan. "It is used to analyze and dig into medical data. A new era of medical science has been unveiled."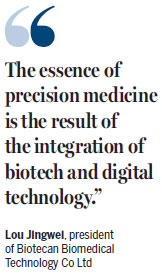 Based at Shanghai's Zhangjiang National Innovation Demonstration Zone, the company has been working since its establishment to collect significant amounts of gene and clinical performance data to support treatment procedures.
In addition to participating in the construction of the Zhangjiang Innovation Demonstration Medical Big Data Service Platform in 2014, the company has also worked to create the world's largest hospital laboratory network in China.
It has built more than 80 molecular medicine diagnostic centers across the country.
Lou said that the company has collected the world's largest number of oesophageal cancer samples and has conducted genome sequencing on more than 1,000 of its 507,000 samples.
Apart from oesophageal cancer, Biotecan also has a significant amount of data on diseases such as pancreatic, prostate and liver cancers.
In a bid to better analyze medical big data, Biotecan has established a partnership with Shanghai's Fudan University. The two parties established the Fudan Zhangjiang Clinical Gene Research Center in 2013.
The company has established a science and research network with top hospitals across the country. A huge amount of medical data is produced from labs and big data centers under the network, which provides a solid foundation for Biotecan's research and development.
"This is also the basic condition for the construction of a global medical big data center and a smart medical big data center," Lou said.
According to Lou, the development of genomics, metabolomics and proteomics allows physicians to design the most effective treatment plans for most patients, which in turn aids the development of precision medicine.
The company also has operations in the Shanghai Zhangjiang Boston Enterprise Park in the US city.
The overseas park helps Biotecan to look for more partnerships with famous US universities and medical institutes, such as Harvard University, Massachusetts General Hospital and Massachusetts Institute of Technology.
Biotecan's presence in the park will help it to attract more high-level experts from overseas, Lou said.
The National Health and Family Planning Commission and the Ministry of Science and Technology have announced that Chinese scientists will draw up a precision medicine project this year, aiming to develop more targeted diagnostics and treatments for specific diseases through advanced medical science and technology.
The company's unique development concepts, business model and performance have been recognized by investors.
Earlier this year, it received 380 million yuan ($55.21 million) in its second round of financing and was listed on the National Equities Exchange and Quotations, also known as the New Third Board.
Contact the writers at wanghongyi@chinadaily.com.cn and tangzhihao@chinadaily.com.cn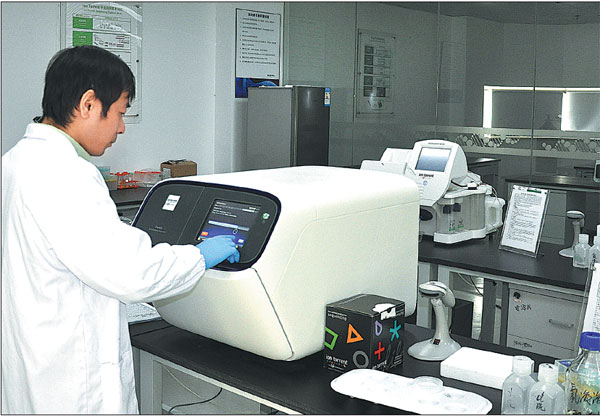 A technician runs a machine at Biotecan Biomedical Technology Co in the Shanghai Zhangjiang National Innovation Demonstration Zone.Provided To China Daily