Families of Taiwan bus fire victims receive compensation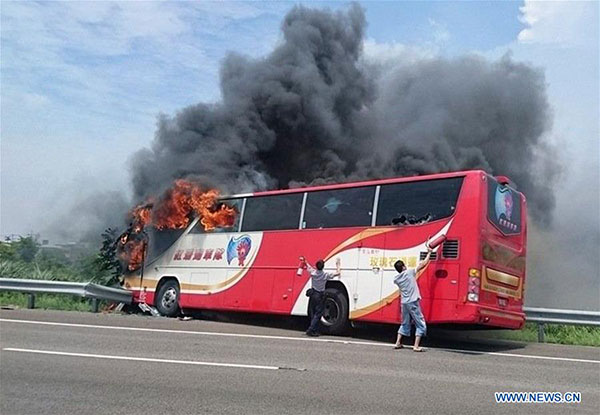 Photo taken on July 19, 2016 shows the accident site of a coach fire in Taipei, China's Taiwan. [Photo/Xinhua]
TAIPEI - The majority of next-of-kin of the Chinese mainlanders who died when a tour bus caught fire in Taiwan have received compensation after an agreement was reached with Taiwanese authorities, the island's transportation authority announced.

Of the 24 mainland victims, 23 families have received 6.64 million new Taiwan dollars (208,917 U.S. dollars) from the bus company's insurers.

Twenty-two of the families have received the compensation while the other one must submit required documents before the money is released, the transportation authority said Wednesday.

One family, yet to settle, said earlier that it would file a lawsuit. It has received and accepted two million new Taiwan dollars in compulsory insurance compensation, which was paid out to the next-of-kin of all the victims.

Twenty-six people were killed when a tour bus crashed into a highway barrier and caught fire near Taiwan Taoyuan Airport on July 19. They included 23 tourists and a tour guide from the Chinese mainland, a local driver and a local tour guide.

Local prosecutors found that the driver of the bus was driving under the influence of alcohol and had intentionally splashed gasoline on himself and passengers before setting fire to the vehicle.

The transportation authority expressed its condolences to the relatives of the deceased, and promised to improve safety measures to ensure the protection of tourists' interests.