Home / China / Innovation
Space Journal: Entry 7 - Chinese farmers in space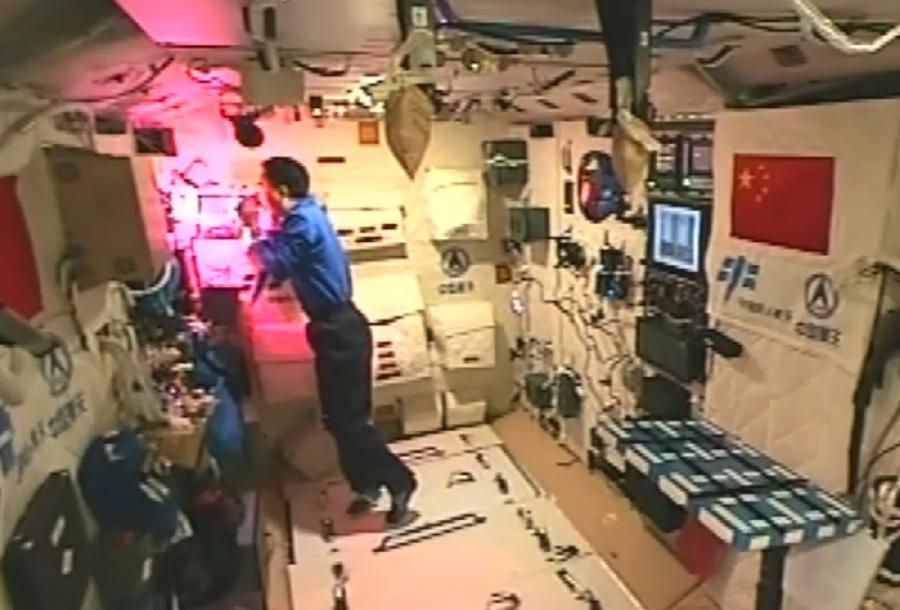 Jing Haipeng takes care of the plans in Tiangong-2.[Photo/Xinhua]
Sowing seeds in space is also different from on Earth, where we sow the seeds first and then water them. As the culture units in space are a solid material we water first and sow the seeds into the soft base.
After this, we put a piece of plastic over the culture device, which works like a propagator and prevent water loss.
On the fifth day onboard the space lab, the seeds had sprouted. My brother Chen Dong and I were very excited and relayed the news to our ground team. We took a lot of pictures.
After the seeds sprouted, we took off the protective film and turned on the lights. We used red, blue and green light, with red as the strongest color.
We also had to thin out our seedlings on the sixth day after we had sown them. My brother Chen and I think the lettuces look very fresh and greener than those grown on Earth.
We used tweezers to pull out the weaker-looking sprouts and left two in each unit cell. We had to do this very carefully as the sprouts were still very delicate. Three days later, we did a second round of thinning and watering. This time, we only left one sprout in each cell.
We do not need to water the plants everyday. According to agricultural experts, we only need to water the plants five times. We use syringes to water the roots.
Also, we have to observe, take pictures and test the lettuces everyday.
The lettuces have been growing well so far, and we are satisfied with our work.
Some people have asked if the sprouts grow in a different direction in space. All our lettuces have grown upward, like on Earth, but it does seem that they are a bit taller.
Tuesday will be the last day we tend to our vegetables in-orbit. We will take samples from the plants -- leaf cuttings and sections of the roots, keep them in a low-temperature storage device and bring them back to Earth.
Another question has been whether the lettuces will be edible.
This time, these vegetables are just for experimental tests, and will not be eaten. However, I believe that after further research, space-grown vegetables will be edible. I see a future where astronauts eat the vegetables they have grown in space.