324 arrested in China's vaccine scandal so far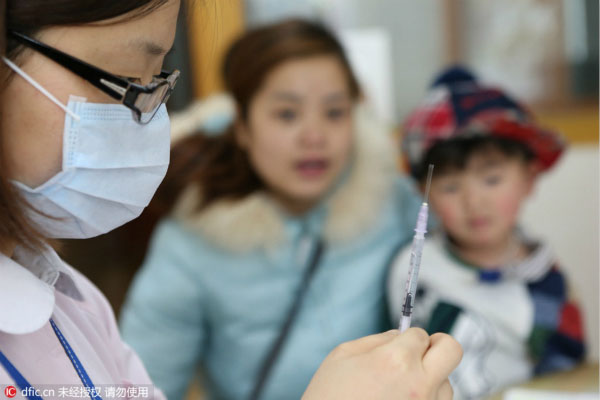 A Chinese medical worker prepares to vaccinate a young kid at a hospital in Shanghai, China, March 20, 2016.[Photo/IC]
Another 27 suspects have been arrested for the vaccine scandal revealed last March in east China's Shandong province, adding the total number of the arrested to 324.
The number is released by Cao Jianming, procurator-general of China's Supreme People's Procuratorate.
100 officials have been put under investigation under suspicion of taking bribes, abuse of power, and negligence, according to the authority.
The scandal which shocked and stunned the public was first unveiled in March, 2016.
The main suspect Pang Hongwei, a former pharmacist at a hospital in Shandong, and her 21-year-old daughter were found illegally selling 12 different kinds of vaccines, 2 kinds of immune globulin and one kind of therapeutic product across the country.
Investigation later found a trade ring surrounding Pang with 300 illegal distributors across 24 provinces and regions.
Most of the vaccines are supposed to be used for children and the elderly.
They allegedly kept the vaccines at home, at temperatures of about 14 degree Celsius, much higher than the required 2 to 8 degree Celsius for storing and transporting vaccines.
Storing at improper temperatures could make the vaccines ineffective or even harmful if used.
The vaccines are worth more than 570 million yuan or 88 million U.S. dollars, making the case the largest of its kind in China in terms of the amount of money involved.