Classic pancake maker cooking again
A street vendor whose classic spring onion pancakes were wildly popular with customers was allowed to start cooking again on Friday after being shut down for operating without a license.
A huge number of fans lined up again to buy the pancakes, which cook Wu Gencheng, 60, had been selling for 13 years from a roadside stall outside his home on the first floor of an old residential building.
Wu's story spread rapidly after his traditional Shanghai snacks, also known as scallion pancakes, received a favorable review in a BBC documentary and news reports in early September about the shutdown.
The closure generated widespread sympathy, with residents blaming bureaucracy for going after a tiny vendor over a trivial matter like licensing, not because of food safety or other good reasons.
In partnership with Ele.me, a Chinese online food ordering and delivery app, the new shop reopened at a food court on Yongjia road in downtown Shanghai - this time with a license. Ele.me paid the annual rent for the property.
Wu, who has a disability - a severe humpback - said he will keep up his routine at the new shop just as he did at his home, getting up every morning at 3 am and making 300 pancakes a day.
"Everything is fine for me," he said.
Yao Zhen, who is in charge of public affairs at Ele.me, said the company was glad to cooperate with Wu to promote the classic snack of Shanghai.
"It took us some time to find an ideal property in the city where an inch of land is worth an inch of gold," Yao said.
The new shop, covering about 7 square meters at the food court, has air conditioning, a better chopping board and better lighting than the old venue. The oven was moved from Wu's original shop, while food materials, including flour, lard oil and scallions are sourced from the same retailers he always used.
On Friday morning, a crowd of fans arrived to get a bite of the pancake praised as "deliciously crisp, doughy and very savory" in the BBC documentary that was broadcast earlier this year.
"I heard about the pancakes for a long time but had missed opportunities to taste it," said Sun Qiong, a Shanghai resident standing at the front of the waiting line. "I'm preparing take 10 of them, including some for my colleagues," she said.
The pancakes cost 5 yuan each. ($0.74).
Li Wenliang, a regular customer, said the pancakes are as tasty as usual - maybe even better: "This is the flavor I am used to," he said. "This is the flavor of Shanghai."
wangzhenghua@chinadaily.com.cn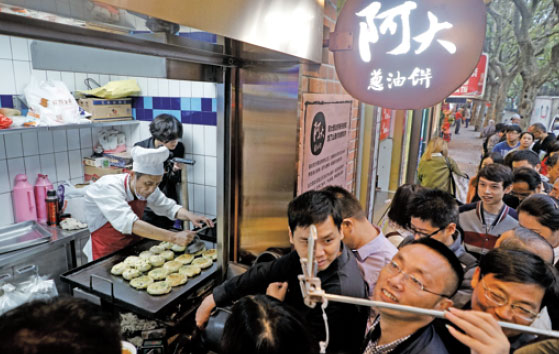 Wu Gencheng cooks onion pancakes at his new shop as fans line up to buy in Shanghai. Wu was shut down earlier this year because he lacked a business license. Now he has one. Cao Lei / For China Daily