A history of bridges over the Yangtze River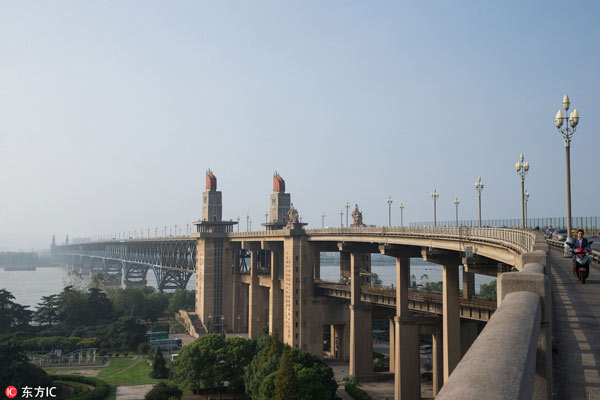 Nanjing Yangtze River Bridge is China's first domestically designed and built bridge over the Yangtze River. [Photo/IC]
Today bridges over 1 km in length are nothing unusual in China, which is home to over half of the world's longest suspension bridges, cable-stayed bridges, steel arch bridges and sea-crossing bridges.
All this was unimaginable 60 years ago when China was building its first bridge across the Yangtze River.
The third longest river in the world, the Yangtze runs over 6,000 kilometers from west to east and measures 5 kilometers at its widest point.
It nurtures over 400 million people, but also blocks the transport of materials and people between the North and the South. For a long time, ferries had been the main transport connecting the two sides of the river.
It was not until 1957 that the first bridge over the Yangtze River was completed in Wuhan, Central China's Hubei province, with assistance from engineers from the Soviet Union.
Since then, more and more links were built over the river.
85-year-old Ren Fade is a resident in Nanjing, East China's Jiangsu province. He has witnessed the remarkable changes a bridge has brought to the city.
Before the Nanjing Yangtze River Bridge was built in the 1960s, a train had to be disassembled into three carriages and loaded on a ferry to cross the Yangtze, said Ren.
It took two hours for the ferry to cross the river which is less than two kilometers in length. To make things worse, the ferry was often disrupted by bad weather, said Ren.
Nanjing Yangtze River Bridge is China's first domestically designed and built bridge over the Yangtze. It took hundreds of thousands of workers eight years to build it, with an investment of 280 million yuan ($41.79 million), an enormous amount of money at the time.
In the following half a century, 162 bridges have been built over the Yangtze. Today, more than 18 billion crossings are made by people across the river every year, making the Yangtze River basin one of the most prosperous economic belts in the country.