Xi urges confidence in overcoming corruption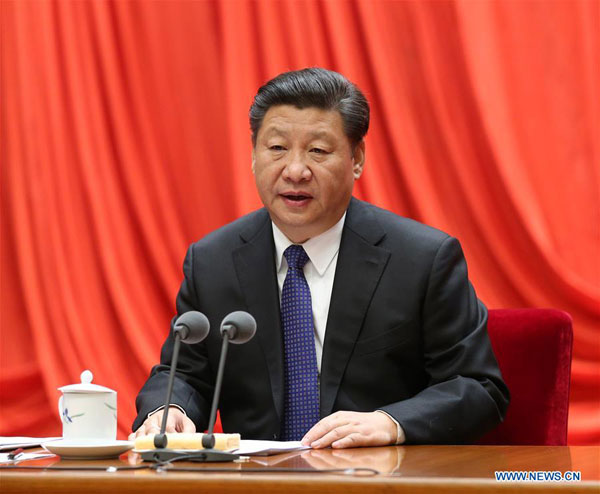 Chinese President Xi Jinping, also general secretary of the Communist Party of China (CPC) Central Committee and chairman of the Central Military Commission, addresses the 6th plenary session of the 18th CPC Central Commission for Discipline Inspection (CCDI) in Beijing, Jan 12, 2016. [Photo/Xinhua]
BEIJING  -- China is gaining ground to overcome corruption, President Xi Jinping said at an anti-graft meeting on Tuesday, urging confidence in the campaign.
"Party members should maintain confidence in the Communist Party of China [CPC] Central Committee's anti-corruption volition, the campaign's achievements, the positive energy it brings and the prospects of our fight against corruption," Xi said at the start of the three-day sixth plenary session of the 18th CPC Central Commission for Discipline Inspection (CCDI).
"To forge iron, one must be strong," Xi said, citing a traditional Chinese proverb to underline the Party's resolve to become corruption-free.
Over the past three years, the CPC has been working hard to redress the problem of being too lenient in managing the Party, and has striven to build a system where officials "do not dare, are not able, and are unwilling to be corrupt."
The efforts are paying off, according to the president. The deterrent effect has been fully exerted, and an atmosphere where officials are "unable and unwilling to engage in corruption" is coming into being.
The CPC Central Committee remains determined to combat corruption, he said.
"(Winning) the people's support is the top political priority," Xi said. He added the anti-corruption drive has boosted people's faith in and support for the Party, and people speak highly of the anti-corruption drive.
Since the 18th CPC National Congress in late 2012, China has intensified its anti-corruption drive and punished a large number of corrupt officials in accordance with the law, including former senior leaders such as Zhou Yongkang, Xu Caihou, Guo Boxiong and Ling Jihua.
On Tuesday, Li Dongsheng, former vice minister of Public Security, was sentenced to 15 years in prison for accepting bribes.
Xi said that since the 18th CPC National Congress, the Party has incorporated the task of comprehensively and strictly governing the Party into the "Four comprehensives," the strategic objectives outlined in the blueprint for China's future.
The CPC has made building Party integrity, clean governance, and the fight against corruption integral to strictly governing the Party in an all around manner, Xi said.
The CCDI, in implementing decisions of the CPC Central Committee, has propelled significant and new achievements in building Party integrity, clean governance and battling corruption, Xi said.
The Party has continued to correct undesirable work styles including formalism, bureaucracy, hedonism and extravagance. It has also strengthened intra-Party supervision, giving full play to inspection groups and exerting greater efforts in pursuing fugitives and recovering stolen assets, according to the president.
The opening of the session was chaired by top graft buster Wang Qishan and attended by leaders including Li Keqiang, Zhang Dejiang, Yu Zhengsheng, Liu Yunshan and Zhang Gaoli.