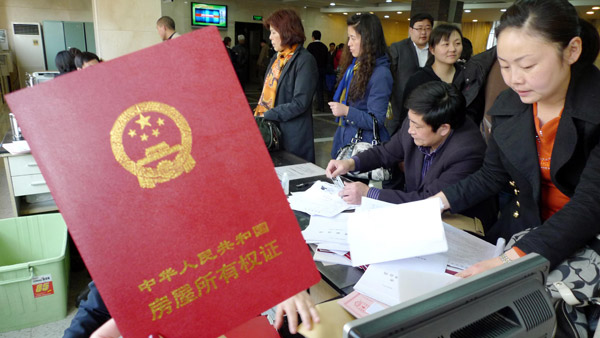 Potential home purchasers complete mortgage applications at a real estate transaction center in Nanjing, Jiangsu province. LIU LI / FOR CHINA DAILY
At least two major commercial lenders denied on Monday that they had stopped extending credit to property developers or suspended loans to homebuyers amid worries over possible debt defaults by some Chinese developers.
On Saturday, media reports said that Industrial Bank Co Ltd had halted loans to realty developers.
The reports also said that Bank of Communications Ltd had circulated an internal memo telling branches to suspend such loans.
On Monday, both banks denied the reports.
Concerns about the stories and associated rumors hit market sentiment on Monday, with the A shares of developers sinking by 8 percent or more.
The daily limit for share movements is 10 percent.
Analysts said credit may be tightened in many sectors after lending surged in the past few months and lenders became more prudent about risk control, but a total loan halt to developers is unlikely.
Qiu Guanhua, an analyst with Guotai Junan Securities Co Ltd, said in a research note on Monday: "Some lenders may suspend realty-related business and put the loans under review until the end of March, when new policies are introduced and implemented."
Although developers are generally optimistic about the market's prospects, there's also an undercurrent of anxiety about possible "volatility" in the policy environment. That's a key factor affecting lenders' and developers' business activity, real estate adviser DTZ's North Asia research team said in a note.
"Developers will become less aggressive in replenishing their land banks, leading to a fall in land purchasing activity in the next 12 months," the note said.
Potential property buyers, meanwhile, said it's obvious that credit conditions for individual borrowers have tightened in Shanghai.
"I haven't been able to secure a mortgage, and it's been three months since I found an apartment that I wish to buy. I've talked to staff at more than five banks, but they said it's unlikely I can get a loan before April," said 29-year-old Liu Qinghua.
Liu said no bank has told him that mortgage lending is suspended but, unlike the smooth process and interest rate discounts his brother experienced three years ago, Liu has to wait — and pay the full benchmark interest rate.
Some developers have offered price discounts of up to 20 percent in the past two weeks, sparking talk about whether housing prices will plunge in 2014.
Analysts said the discounts are mostly one-off cases and the projects involved aren't located in city centers.
Some developers may default on their debt as property trust loans worth about 350 billion yuan ($57.47 billion) mature this year, according to Jefferies Hong Kong Ltd.
Real estate mezzanine financing accounts for 10 to 20 percent of annual property investment, with trust firms and private equity funds contributing the most, China International Capital Corp analysts wrote on Monday.
Mezzanine financing in the property industry involves giving a loan to a developer while an affiliate of the bank buys a stake in the company and sells it back at a later date.
It is often structured in a way that makes it look like an equity investment rather than a loan. And it often bears relatively high interest rates.
The Chinese property market slowed in January as banks kept mortgage policies tight with no discounts.
Bloomberg News contributed to this story.