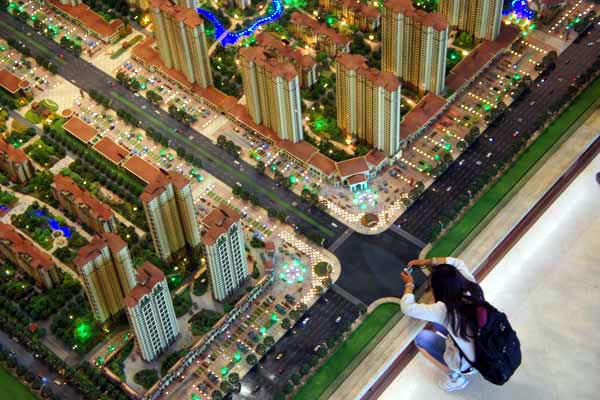 A potential homebuyer takes a photo of a property display model in Beijing. [File photo / China Daily] 
BEIJING - Home prices dropped month-on-month in more Chinese cities in January, adding to signs pointing to a gradually cooling property sector, official data showed on Monday.
Of a statistical pool of 70 major Chinese cities, 62 saw a month-on-month rise in new home prices, while prices in six cities declined, the National Bureau of Statistics said in a statement.
Only two cities saw month-on-month drops in new home prices in December, according to previous data.
The average month-on-month price increase for new homes slowed slightly to 0.49 percent last month from 0.51 percent in December, with the average in four first-tier cities -- Beijing, Shanghai, Guangzhou and Shenzhen -- slowing 0.1 percentage point from December, the statement said.
Prices of existing homes also showed a trend of moderation, with 13 cities experiencing month-on-month declines, up from only five in December.
Senior NBS statistician Liu Jianwei attributed the moderation partly to a raft of government measures to stabilize market expectations, including more control measures and increasing supplies of affordable housing.
Tightened credit was another reason behind the narrowing price gains, Liu said.
Since the beginning of this year, some commercial banks in China have tightened lending to the property sector after they were hit by bouts of severe liquidity crunch last year.
Industrial Bank has ordered its local branches to suspend loans to some sectors till the end of March, including some property development projects, as well as steel, cement, construction and other property-related sectors, the Shanghai Securities News reported Monday.
Chinese property shares tumbled about 4 percent at around 11 a.m. Monday.
China Vanke, the country's largest property developer by market value, dived 6.15 percent, while Poly Real Estate plummeted 8.11 percent.
Don't miss:
Home prices continue to climb in China