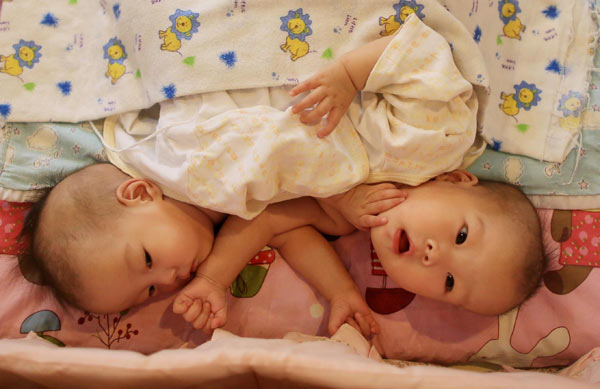 Conjoined twins Zheng Hanjing and Zheng Hanwei are being cared for at Angel's Home in Beijing's Changping district. Fu Ding / For China Daily
Conjoined twins Zheng Hanjing and Zheng Hanwei are simultaneously lucky and very unlucky.
The 3-month-old twins are unlucky in that they are orphaned and abandoned. They are lucky, however, because their impending surgery in Beijing offers them a chance to be separated and live independent lives.
The two girls, who are conjoined at the chest and abdomen, were discovered by police on Aug 11, apparently abandoned. They had been left by an expressway in Pingdingshan, Henan province, and were taken in by Sun Zhengxin, president of the Pingdingshan Child Welfare Home.
Sun said the orphanage can not find their parents, so it gave the girls their names.
"We took them in at 4 pm on Aug 14. They were tiny when we found them, so we suspected that they were abandoned soon after they were born," he said. "We took them for medical tests and found their livers and bones were fused."
The orphanage contacted Angel's Home, a non-government organization in Beijing that provides care for orphans with severe diseases or disabilities, said Sun. After a few days, the girls were transferred to the care of the organization in Beijing, while the possibility of surgery was explored.
The girls now weigh 9.5 kilograms together and are in stable condition, according to Deng Zhixin, founder of Angel's Home.
"Hospitals in Pingdingshan are not able to perform the surgery to separate the girls. They can only get this kind of surgery in large cities such as Beijing and Shanghai," she said.
Of the 150 children the organization has helped, these are the first conjoined twins, Deng said.
"Doctors told us we should first wait until the twins weigh at least 15 kilograms together," she said. "The risks are high and few hospitals dare to do the operation."
Bayi Children's Hospital in Beijing has offered to perform the surgery on the babies in about two months, according to Huang Liuming, director of the hospital's surgical department.
"It is a severe case. The conjoined area is large, thus increasing the difficulty of the surgery," he said. "We expect the children to be fit for the surgery when they turn 6 months. Right now they don't have enough skin to close up their thorax after the surgery."
He said waiting too long before performing the surgery would adversely affect the individual development of each baby's thorax, because their ribs are all fused.
He expected the operation to cost more than 50,000 yuan ($8,235) for each baby.
Huang put the chances of the both girls surviving the procedure at "80 to 90 percent".
Doctors need to watch out for potential respiratory problems after the surgery, given that their ribs and sternums are impaired, and their respiratory muscles are underdeveloped, he added. "How long they are kept in the hospital depends on the recovery of their respiratory system and other factors, such as how soon they will be able to eat."
It remains to be seen whether their abdominal muscles and breastbones develop normally, Huang said.
Deng said her organization is collecting donations to pay for the surgery.
"The twins can hardly do any exercise," she said. "Our caregivers turn them on the other side of their body once every hour, as we worry that lying on one side for a long time may cause harm to their heads and shoulders."
The two girls are available for adoption, like the other orphaned and ailing children under the organization's care. However, the girls may be returned to the orphanage in Pingdingshan if no family wants to adopt them, Deng said.
Contact the writers at wangqingyun@chinadaily.com.cn and qixin@chinadaily.com.cn.