JOHANNESBURG - Memorial service for former South African president Nelson Mandela started in Johannesburg on Tuesday as tens of thousands of mourners and more than 90 world leaders gather in rain to remember Mandela at memorial.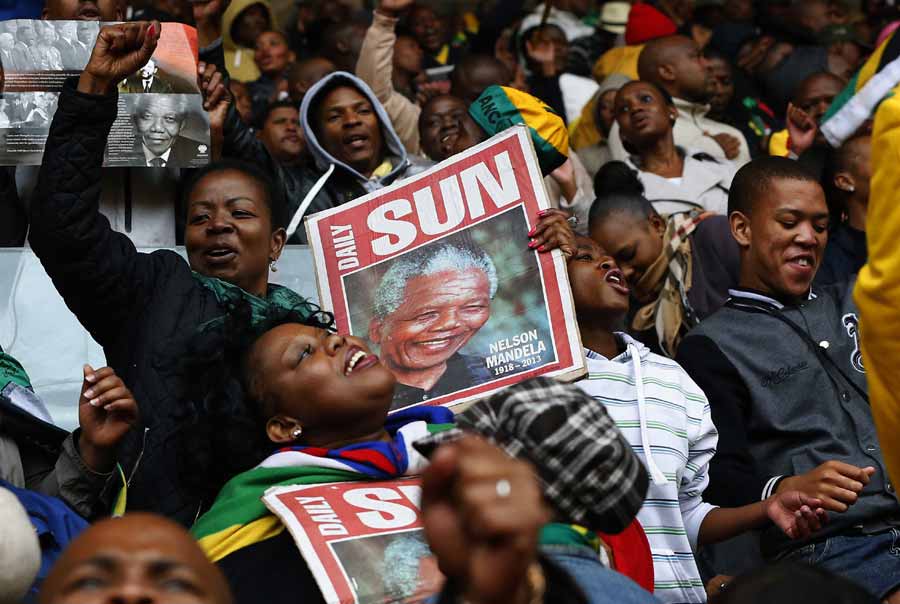 People sing and dance at the First National Bank (FNB) Stadium, also known as Soccer City, ahead of former South Africa's President Nelson Mandela's national memorial service in Johannesburg December 10, 2013. World leaders from US President Barack Obama to Cuba's Raul Castro joined thousands of South Africans to honor Nelson Mandela on Tuesday in a memorial that will celebrate his gift for bringing enemies together across political and racial divides. [Photo/Agencies]
As a special representative of Chinese President Xi Jinping, Chinese Vice President Li Yuanchao will give a speech at the memorial which is held at the FNB Stadium in Johannesburg. U.S. President Barack Obama, British Prime Minister David Cameron, Brazilian President Dilma Rousseff as well as U.N. Secretary General Ban Ki-moon are among the world leaders coming to honor the icon.  
The rain did not dampen the spirit of mourners singing and blowing trumpets before the memorial service began, in eulogy of Mandela who died of a lung trouble on December 5 at the age of 95.
In the stadium flags were flying at half-mast and security is tight with a large contingent of police patrolling and standing on guard.
South Africa's Defense Minister Nosivewe Mapisa-Nqakula told the media that more than 11,000 troops have been deployed, as well as a coordinated plan involving the military, air force and police.
"We are talking about Madiba here, so there is no margin for error," police spokesperson, Zweli Mnisi told ENCA news on Tuesday.