AGADIR, Morocco - Bayern Munich outclassed Guangzhou Evergrande 3-0 to reach the final at FIFA Club World Cup on Tuesday.
Franck Ribery's left-footed shot, Mario Mandzukic's diving- header and Mario Goetze's driving shot helped the reigning German and European champions ease past the Asian Champions League winners.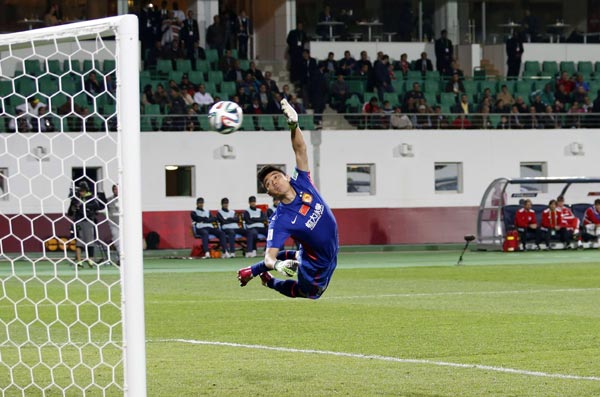 Guangzhou Evergrande's goalkeeper Zeng Cheng concedes a goal to Bayern Munich during their FIFA Club World Cup soccer match at Agadir Stadium in Agadir December 17, 2013. [Photo/Agencies]
Guangzhou, the first-ever Chinese club appearing in this tournament, had to fight for the third-place of the tournament against the defeated side of the other semi-final between Raja Casablanca and Atletico Mineiro.
Marcello Lippi's side was suppressed with little space to stand foothold in the midfield and felt lucky with clean sheet after 40 minutes when Thiago and Toni Kroos's shots were denied by the woodwork.
Franck Ribery, who made up the three-man shortlist for FIFA's best player of the year, sent his left-footed low shot to the far corner after Chinese defenders failed to clear the rebound out of the box.
Mandzukic added a second four minutes later when he picked up a right-wing cross from Thiago and beat goalkeeper Zeng Cheng with a near-post diving header.
Bayern, which extended their unbeaten run in the Bundesliga to 41 matches, continued their goal fest two minutes after the restart. Goetze struck a driving shot to the top corner from the right area.
Guangzhou, who saw off eight-time African champion Al Ahly 2-0 in the quarter-final, found it hard to move the ball effectively despite boosted by their attacking trio Elkeson, Dario Conca and Muriqui, as the German club dominated the rhyme with high-pressing defensive line.
Rong Hao, Chinese fullback, delivered a low shot wide off the near post after he met Gao Lin's left-wing low cross, which was one of the few threats to Bayern.
Though the defeat is hash, the semi-final entry is the best- ever result for Chinese professional league in world stage after Guangzhou became the first club from the country to win the Asian Champions League in November.