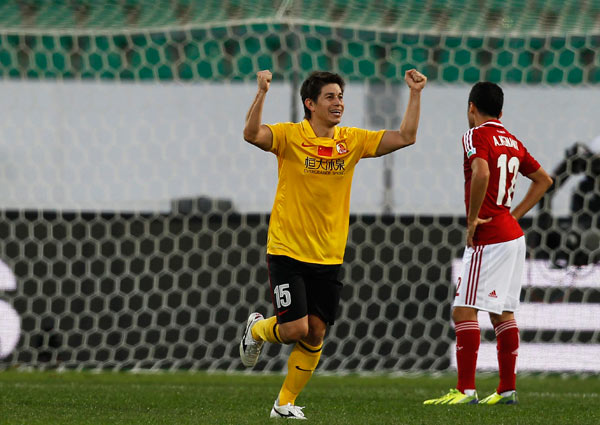 Dario Conca of China's Guangzhou Evergrande celebrates his goal against Egypt's Al Ahly during their FIFA Club World Cup soccer match at Agadir Stadium in Agadir December 14, 2013. [Photo/Agencies]
AGADIR, Morocco - Chinese club Guangzhou Evergrande outclassed eight-time African champion Al Ahly 2-0 in the quarterfinal at the Club World Cup on Saturday.
Elkeson and Dario Conca scored in the second half for the Asian champion.
Elkeson opened the account in the 49th minute, hitting home after Muriqui's shot had come off the post.
Conca scored a second goal in the 67th minute when Al Ahly goalkeeper Sherif Ekramy could only parry Muriqui's shot into the path of the Argentine midfielder.
"Bayern is one of the best in the world. To play against them will be one of the biggest satisfactions in my career," said Italian head coach Marcello Lippi.
The Egyptian side Al Ahly, who shared a record fifth participation in the FIFA's year-ending event in Morocco, failed to create enough open chances and had to fight for the fifth-place.
The victory is a further step in history for Chinese football after Guangzhou became the first club from the country to win the Asian Champions League in November.
Led by their attacking trio - Gao Lin, Elkeson and Muriqui, supported by playmaker Dario Conca and captain Zheng Zhi, Guangzhou started with a 4-3-3 formation and looked more dangerous throughout the 90 minutes.
Guangzhou nearly opened the scoring just one minute into the match when Elkeson's near-post header hit the back net.
Ahly wasted their best chance five minutes later. Chinese keeper Zeng Cheng kicked a loose pass directly into the path of Mohamed Aboutrika, only seeing the 35-year-old's header go off the open net.
Guangzhou almost took the lead in the 15th minute when Gao Lin's sharp left-wing pass sent Elkeson clear in the central area. But the Brazilian's left-footed low shot went past the far post.
Four minutes after the restart, Muriqui's shot was stopped by the post, but his partner Elkeson tapped in the rebound to send the thousands of visiting fans into delirium at Agadir Stadium.
Chinese veteran Zheng Zhi, who had played in former Premier League side Charlton, delivered an accurate through pass to find Muriqui close to the area. The Brazilian's close-range shot was again blocked but this time it was Conca tapped in the winner.
The Egyptian champion, having no regular football to play as the domestic league remains suspended following last year's Port Said Stadium disaster, regained the momentum in the final 20 minutes but failed to score.