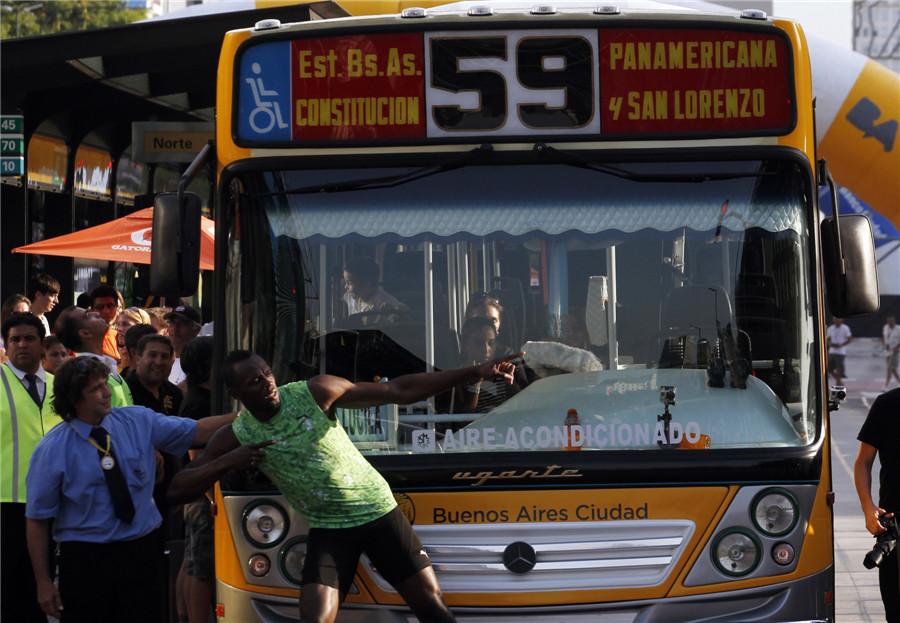 Jamaican sprinter Usain Bolt poses next to the bus driver after competing in a race against a public bus during a demonstration event in Buenos Aires December 15, 2013. Bolt, who is on a three-day visit to Argentina, took part in a 80 meters bus race, and delivered a motivational speech on leadership. [Photo/Agencies] 
Jamaican sprinter Usain Bolt is looking for a bus that can outrun him in the world's most populous country, raising another challenge against transit vehicles, after he raced a metro bus over 80 meters in Buenos Aires on Saturday.
On Dec 16, the world's fastest man asked in his Tencent Weibo post, "are there any Chinese buses want to race against me?" raising the eyebrows of Chinese web users.
Proud Chinese users flaunted their hometown buses in response, saying daring drivers on Qingdao's outskirts, and those in Central China's Wuhan are "certainly no pushovers."
Those from Hunan province's capital, Changsha, said their local bus drivers could breathe through, because they "drive a bus like it's Formula One" .
Some users said they are pessimistic about Bolt's China race for another reason. User Buyiqiangshou replied, "Roads crowded, blocks congested, buses wouldn't move at all"-- no doubt he is a commuter.
Wang Ying, an experienced bus driver from the Northeast China city of Dalian, admitted Bolt's dominance in the 80-meter in a interview with Dalian-based Bandao Morning News, but she promised a crushing victory in a 300-meter race, or a narrow victory in 200 meters.
"The bus requires several seconds to move with any type of speed. But entering the second 100-meter, the bus can keep steady at 50 km/hr, largely outrunning Bolt's 36 km/hr, which might fill the gap left before." Wang said she can compete with the human lightning, the first Chinese driver to accept the challenge.
Still, some seem less interested in the gamble, comparing it to Michael Schumacher's taxi-driving affair in an airport dash in 2007 -- celebrities doing stunts to draw attention.
Bolt took part in a 80 metres race against a public bus in a televised demonstration event in Buenos Aires on Dec 15, and delivered a motivational speech on leadership during his three-day visit to Argentina.