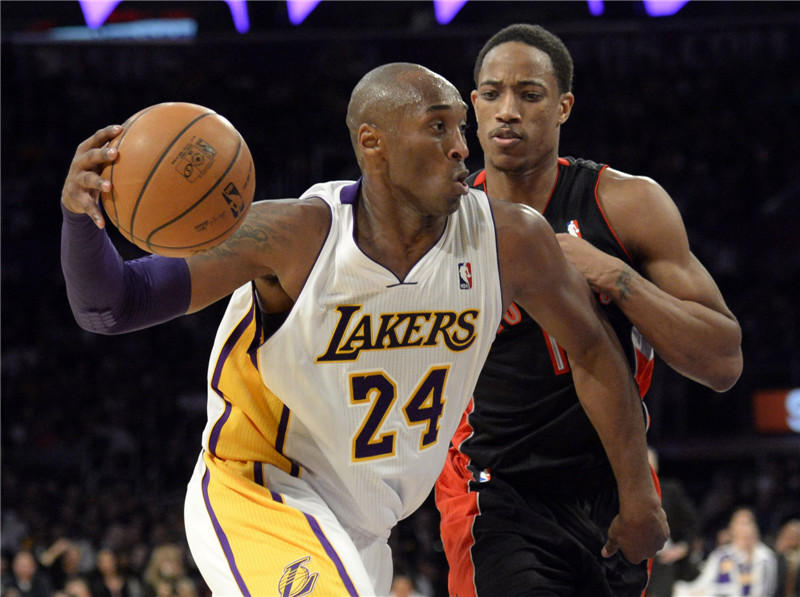 Los Angeles Lakers shooting guard Kobe Bryant (24) drives to the basket against Toronto Raptors shooting guard DeMar DeRozan (10) during the second half at Staples Centerin Los Angeles, USA, Dec 8, 2013. [Photo/Agencies]
LOS ANGELES — Kobe Bryant had nine points and eight rebounds in his season debut for the Lakers, but Amir Johnson scored a career-high 32 points in the trade-depleted Toronto Raptors' 106-94 victory over Los Angeles on Sunday night.
Bryant began his 18th NBA season by going 2-for-9 with four assists and eight turnovers in 28 minutes. The fourth-leading scorer in NBA history hadn't played since tearing his Achilles tendon in April, undergoing several months of rehabilitation to return for Los Angeles' 20th game of the new season.
But the Lakers never led, and Toronto improbably snapped its five-game losing streak despite playing without forward Rudy Gay, who is expected to be traded to Sacramento on Monday as the centerpiece of an apparent seven-player deal.
Kyle Lowry had 23 points and eight assists, and DeMar DeRozan added 10 of his 26 points in the final 4:35 of the Raptors' first road win over the Lakers in 11 tries since Dec 28, 2001.
Nick Young scored 19 points for the Lakers, who went 10-9 without Bryant this season, forging a winning record without the five-time NBA champion and with little help from fellow injured MVP Steve Nash.
Adoring fans cheered Kobe's every move and forgave every misstep, but Bryant couldn't rally the Lakers late despite another huge game by Los Angeles' reserves. Xavier Henry scored 17 points off the bench, and Jodie Meeks added 14.
The Raptors had 11 players available after holding out Gay, center Aaron Gray and forward Quincy Acy, all set to head to the Kings in exchange for Greivis Vasquez, Patrick Patterson, John Salmons and Chuck Hayes.
That turned out to be plenty, thanks to two Los Angeles natives. Johnson, who attended nearby Westchester High School, went 14-for-17 and surpassed his previous career high early in the third quarter. Johnson didn't take a shot in the fourth, but USC product DeRozan and Lowry held off the Lakers.