Tibetan patients ready to go home after heart surgery
Thirteen young people from the Tibet autonomous region are ready to go home after they received free surgery to treat congenital heart disease at Beijing's Air Force General Hospital.
The people, aged from 4 to 19, are among the youngsters helped by a program launched by the China Charity Federation in 2011 to support children with congenital heart disease from financially challenged families of ethnic groups in places including the Xinjiang Uygur autonomous region, Tibet and Guizhou province.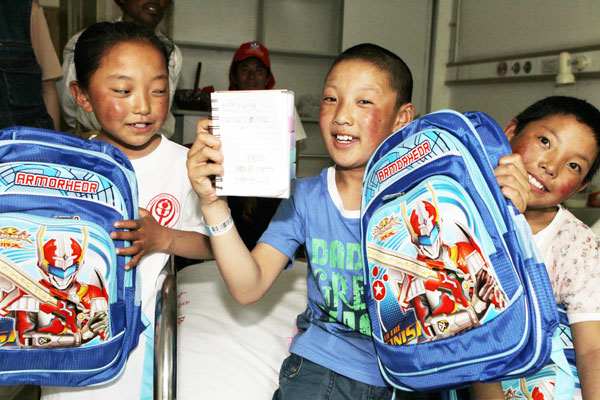 Konggar Wangchug holds a notebook containing his wish to be a pilot. He was among 13 Tibetan children with congenital heart disease treated at the Air Force General Hospital in Beijing. The hospital gave them schoolbags on Friday as gifts ahead of International Children's Day, which falls on Saturday. Photo by Zhu Xingxin / China Daily
"We have received 36 patients with congenital heart disease from Tibet since May 20," said Xu Aisu, media officer of the Air Force General Hospital, one of the six hospitals in Beijing and Guangzhou cooperating with the China Charity Federation.
In May, the hospital sent doctors to Tibet and screened about 15,000 young people. It found out that more than 70 of them needed surgery to treat congenital heart disease, according to Xu.
"Our doctors helped local hospitals to conduct the surgery for these patients. If the local hospitals are not able to do it, they send the patients to our hospital in Beijing for the surgery," she said.
Nineteen-year-old Deyang from Lhasa is among those diagnosed in May. She underwent the surgery on Wednesday.
Anan, the girl's mother, said that she had gone through many physical examinations, but that they had failed to reveal why she always had a hard time breathing during physical education classes. The checkups for students at her school in May finally found that she had a congenital heart problem.
"We rushed to Beijing after I was told that my daughter could get the surgery for free," she said. "She's much healthier now, and has no problems when she plays sports," the mother said.
Eleven-year-old Kunga Wangchug from Damxung county in Tibet underwent the surgery on Monday. He said that he had taken pictures of the scenery in Beijing and would show them to his friends back in his hometown.
Pasang, an official from the health bureau of Damxung, said 19 young Tibetans came to the hospital this time to have the surgery.
"It's the first time that patients in Damxung went outside Tibet to receive surgeries," he said, adding that the county will send more people to have surgeries in cities such as Beijing.
"There are not enough doctors in Tibet to conduct such surgery. This is why hospitals from all over the country have joined hands to do the surgery for patients, so that they don't have to wait while their conditions worsen over time," he added.
"Tibet has a higher incidence rate of congenital heart disease because of its plateau climate," said Xu, emphasizing that such patients must seek treatment before their conditions deteriorate.