Cooperation crucial in fighting outbreak
WHO calls for improved partnership between health and agriculture officials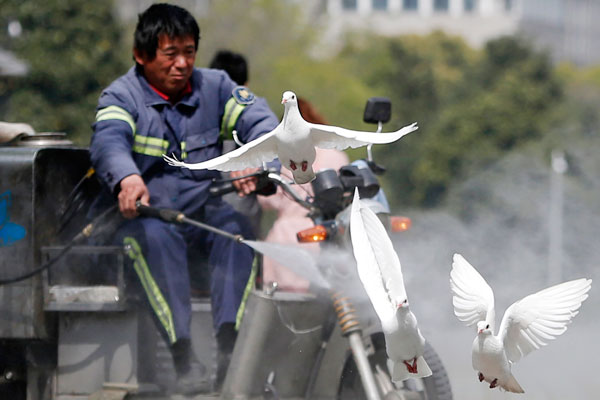 A public park employee cleans bird droppings at People's Square, downtown Shanghai, on Wednesday. China had reported nine deaths from H7N9 bird flu as of Wednesday. PHOTO BY Aly Song / REUTERS
A one-month gap between China's first H7N9 bird flu human death in Shanghai and the detection of the virus in pigeons has brought into question whether the collaboration between health and agriculture authorities is efficient enough to trace the virus strain that previously infected only birds.
As of Wednesday, China had reported 33 human infections of H7N9 including 9 deaths.
On March 4, an 87-year-old man named Li died of multiple organ failure caused by an unexplained pneumonia.
To identify the cause, samples from Li were sent on the same day to a lab, which identified a new variant of the H7N9 strain of bird flu H7N9.
On March 10, that result was confirmed by another lab.
It was the first time H7N9 infected humans.
Notably, it was not until April 4 that the Ministry of Agriculture announced the first detection of H7N9 in pigeons from Shanghai's live poultry markets. "Despite a general principle between health and agriculture authorities for concerted efforts to contain especially zoonotic diseases (illnesses that spread among humans and animals), collaboration in specific tasks must be further improved," said Feng Zijian, director of the health emergency center at the Chinese Center for Disease Control and Prevention.
At present, "seemingly either health or agriculture authorities work on their own", he said.
The Agriculture Ministry devised its own testing methods and a plan targeting the H7N9 virus among animals, according to Feng.
The tests and plans took account of domestic poultry, wild birds and pigs, the ministry said on Friday.
Feng urged the ministry to notify health authorities of any outbreaks among animals it detects.
"Given that the virus could infect both birds and humans, cooperation in virus tracking and the timely exchange of information is crucial to curb the spread of the virus," Feng said.
Liang Wannian, director of the H7N9 influenza prevention and control office under the National Health and Family Planning Commission, said tracing the spread of the virus among animals also will help contain its spread among humans.
Determining which animals are hosts will help prevent transmission of the virus to humans, he said.
And testing whether wild birds also carry the virus helps in accurately assessing how far it might travel.
The World Health Organization called for an improved, concerted partnership between health and agriculture authorities to better fight the virus.
So far, the new variant of H7N9 has been found at live poultry markets, and no pigs have tested positive, the Ministry of Agriculture said.
According to the WHO, human infections with H7 bird flu viruses (H7N2, H7N3, H7N7) were reported between 1996 and 2012 in the Netherlands, Italy, Canada, the United States, Mexico, and the United Kingdom.
Even though a human infection of the virus was known to have occurred in March, the Agriculture Ministry increased its surveillance of the H7N9, testing birds and even pigs, only after it was detected in pigeons on April 4. By April 5, 16 patients had been confirmed infected with H7N9 in China and six of them died.
Some questioned whether a month was needed to test for the virus in birds.
The lack of a testing reagent was an issue, according to a Beijing News report on Wednesday.
As of April 3, areas where H7N9 had infected humans, including Shanghai and Jiangsu, Zhejiang, and Anhui provinces, had no tools to test animals for H7N9.
The pigeon finding was made by the national bird flu reference lab in Harbin, Heilongjiang province, the report said.
The lack of a timely exchange and sharing of information must be questioned.
According to Zhang Junrui, deputy director of the Suzhou CDC, as the city confirmed its first H7N9 human infection on April 2, an emergency response conference was convened to form a united front health and agriculture authorities against the virus.
"We should have begun joint virus-tracing efforts, but we didn't," he conceded.
And information sharing between health and agriculture authorities is not direct, but is via a provincial government coordinator, he said.