Mekong River murderers executed by injection
KUNMING - Myanmar drug lord Naw Kham, who was convicted of murdering 13 Chinese sailors on the Mekong River in 2011, was executed on Friday afternoon, a local court in southwest China said.
Naw Kham and three of his accomplices, identified as Hsang Kham, Yi Lai,and Zha Xika, were executed by lethal injection in the city of Kunming in southwest China's Yunnan Province, according to the Intermediate People's Court of Kunming.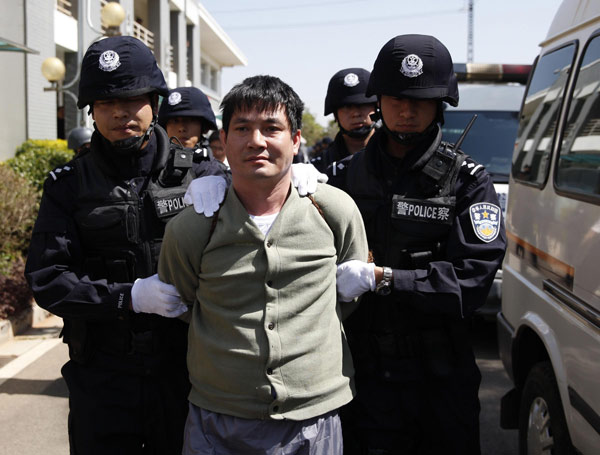 Myanmar drug lord Naw Kham is taken to be executed in Kunming, Southwest China's Yunnan province, March 1, 2013. [Photo/Xinhua]
Prosecutors with the Kunming People's Procuratorate were present to supervise the executions, verify the convicts' identities and ensure the executions were conducted in accordance with the law.
The criminals were also given opportunities to meet with their close relatives at the detention center on Thursday.
After the execution, the bodies should be cremated and the remains should be handed over to relatives, according to Chinese law.
Naw Kham and his gang members were found to have planned and colluded with Thai soldiers in an attack on two Chinese cargo ships, the Hua Ping and Yu Xing 8, on October 5, 2011 on the Mekong River. Thirteen Chinese sailors died in the attack.
As per Naw Kham's instructions, several of his subordinates also kidnapped Chinese sailors and hijacked cargo ships in exchange for ransom in early April 2011.
"Why were Naw Kham and his subordinates so brutal with innocent people? That is a question I still ask today," the wife of Huang Yong, captain of the Hua Ping, told Xinhua.
She said she never drinks, but took a nip with her 13-year-old child on Thursday. "I want my kid to remember this day forever."
"The execution gave me some comfort, but could not make me happy. My husband will never be back," she said.
Naw Kham and three of his accomplices were handed death penalties on November 6, 2012.
After the court rejected their appeals and upheld the death sentences, their sentences were submitted to the Supreme People's Court (SPC) in Beijing for review. The SPC president signed an execution order after review procedures were completed.
On February 22, the Kunming Intermediate People's Court received a judgment regarding the judicial review and the execution order. The convicts were informed of the judgment on February 24.
The gang was busted in early 2012 amid a joint operation conducted by police from China, Laos, Myanmar and Thailand, after the brutal murders of the Chinese sailors triggered calls to rein in rampant crime in the border region.
Another two members of Naw Kham's gang, identified as Zha Bo and Zha Tuobo, received a death sentence with reprieve and eight years in prison, respectively.
Nicknamed "the Godfather," Naw Kham was the boss of the largest armed drug trafficking gang on the Mekong River, which flows through China, Laos, Myanmar, Thailand, Cambodia and Vietnam.
According to a statement from China's Ministry of Public Security, Chinese police have maintained partnerships with law enforcement authorities in 189 countries and regions. It has also set up hotlines to communicate with police departments in 44 countries and regions.
Since 2008, Chinese police have joined hands with the law enforcement departments of about 100 countries to crack down on crimes such as drug trafficking, human trafficking, telecommunications fraud and intellectual property rights violations.
These cooperations have led to the arrests of more than 3,000 suspects.