Xi calls for proper resolution with Japan
Party leader Xi Jinping called on a timely, proper resolution to sensitive bilateral issues while meeting with Natsuo Yamaguchi, the visiting party leader of Japan's pacifist New Komeito on Friday morning.

Seeking to warm up the soured bilateral ties, Yamaguchi started a four-day visit to China on Tuesday. Yamaguchi's New Komeito is a junior ruling partner in coalition with the conservative Liberal Democratic Party.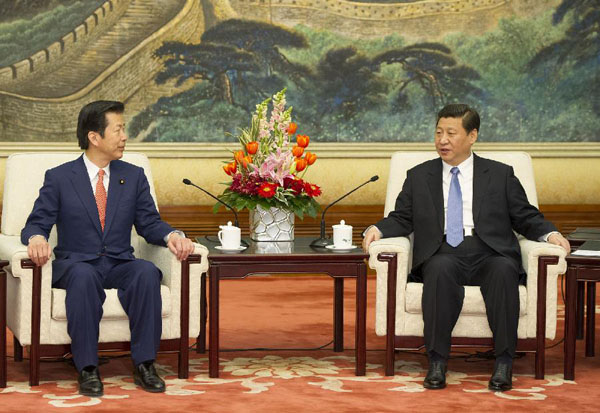 Xi Jinping (R), general secretary of the Central Committee of the Communist Party of China, meets with Natsuo Yamaguchi, leader of the New Komeito party, one of Japan's two ruling parties, at the Great Hall of the People in Beijing, capital of China, Jan 25, 2013. [Photo/Xinhua]
Xi hailed Yamaguchi's visit to China at a time when the bilateral ties are faced with a "special situation", and he said Beijing's stance on stressing the development of China-Japan ties "has not changed".
Bilateral trade and diplomacy were badly affected in September after the Japanese government illegally "purchased" part of the Diaoyu Islands.
The Japanese side should respect Chinese people's feelings and appropriately handle historical issues, Xi said.
Tokyo is urged to face up to history and reality, take tangible moves and work with Beijing to find a feasible solution through dialogue and reconciliation.
Yamaguchi said his party, as a leg of Japan's ruling coalition, will follow and further uphold its tradition of seeking Japan-China friendship, boost bilateral exchanges and cooperation.
The pacifist party leader said his party will push for a resolution through dialogue.
The four key bilateral political documents are the "ballasts" of China-Japan ties and need to be followed, Xi said. "Under the new circumstances, we should follow the leaders of the older generation and show national responsibility, political wisdom and historical undertaking," Xi said.
Xi expected the New Komeito party to continue its constructive contribution to the China-Japan ties.
Yamaguchi brought a handwritten letter from Japanese Prime Minister Shinzo Abe and handed it to Xi during the Friday meeting. Abe said in the letter that the Japan-China ties is one of Japan's most important bilateral relationships, and both countries share a duty to maintain peace and development in the Asia-Pacific region and the world.
Abe vowed to act in consideration of the big picture and boost Japan-China's strategic, mutually beneficial relationship.

Special coverage:
China-Japan Dispute over Diaoyu Islands