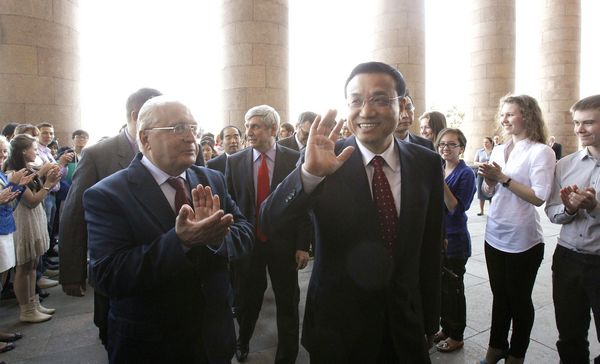 Vice-Premier Li Keqiang is greeted by leaders and students of Moscow State University during his visit on Saturday. [Photo/Agencies]
Look to quality, not just quantity, says vice-premier
With ties between China and Russia at a "new historical point", now is the time for the two nations to work closer together on major projects in energy, high technology and finance, Vice-Premier Li Keqiang said on Saturday.
A key priority should be boosting two-way investment, he said, urging governments and enterprises on both sides to "take advantage of the opportunities" in front of them.
Li was speaking at the China-Russia Trade and Investment Promotion Forum in Moscow, part of his four-day visit to Russia, which started on Wednesday. He will also visit Hungary and Belgium.
"Economic and trade cooperation (between China and Russia) is now at a new historical point," the vice-premier said. "Considering the economic complementarities, mutual political trust and enhanced cultural exchanges, (the countries) can cooperate on a wider range of issues and sectors.
"We should enhance cooperation in strategic and major industries, such as infrastructure, high-tech and processing, as well as seek mutual benefits in natural resources of oil, gas and coal," he said.
Both nations also have an opportunity to tap new areas, Li said, such as including high-end equipment, new energy, and bio-medical, aerospace and financial services.
He urged both countries to expand two-way investment while aiming to boost bilateral trade, adding: "It's not only about quantity, but also quality."
China is already Russia's largest trading partner and its second-largest export market.
Despite the European debt crisis, China-Russia trade in 2011 surged 42.7 percent on the previous year to $79.25 billion, outperforming the 22.5 percent growth in China's total foreign trade over the same period.
On Saturday, the countries signed 27 agreements worth $15 billion, covering the energy, equipment, IT and finance sectors.
However, Igor Shuvalov, Russia's first deputy prime minister, said: "We can't just stop and be satisfied with the current situation, although it is good. We have to press for further growth through joint efforts."
Shuvalov also agreed with Li's call for the two nations to encourage companies to invest in each other's market.
Although China and Russia are actively expanding bilateral trade, he said, it is more important that they promote bilateral investment. "Russia should improve the investment environment," he added.
Two-way investment has rapidly risen in recent years. By the end of 2011, Russia's accumulative investment in China was $818 million, mainly in the fields of manufacturing, construction and transport. China's investment in Russia was $2.91 billion, mostly in energy, agriculture, forestry, telecommunications, construction and service sectors.
However, bilateral investment was $4 billion, less than 2 percent of the total foreign direct investment of the two nations, which is "still quite small", Li said. "The volume is small but ... the potential is huge."
China Investment Corp and the Russian government are considering setting up a joint fund to help companies invest in each other's markets.
"China is a large market," said Serqey Aqibalov, general manager of Sport Master, Russia's largest sportswear maker, which has partnerships with 200 manufacturers in China. "We plan to set up retail stores in China in two years," as well as make orders for goods made in China.
As part of its 12th Five-Year Plan (2011-15), China pledged to transform its economic growth model to one that is driven by consumption. The nation also vowed to further its opening-up policy and continue to develop central and western areas.
Meanwhile, this year, Russia entered the World Trade Organization and is extensively pushing forward economic modernization.
Russian Prime Minister Vladimir Putin, who will regain the presidency in May, has vowed to reduce his nation's reliance on natural resources - oil and gas - and is planning to boost foreign direct investment to 25 percent of Russian GDP from the current level of 20 percent.
"Promoting investment is in line with the common interests of both nations," said Li Jian, a researcher with the Chinese Academy of International Trade and Economic Cooperation, which is affiliated to the Ministry of Commerce.
"Following the impact of the financial crisis, Russia lacks capital and is in much need of foreign investment. Meanwhile, China is well on the way to transforming its economic growth model."
Wang Haifeng, a professor for the National Development and Reform Commission's Outward Economic Research Institute, predicted that two-way investment will see robust growth, but warned that Russia must improve the investment environment to guarantee investors' benefits.
For years, the growth in trade has outperformed GDP growth in both nations, and such momentum will continue for some time, Vice-Premier Li said.
China and Russia should be "committed to growing bilateral trade to $100 billion by the end of 2015 and $200 billion by the end of 2020", targets agreed by leaders in both states, he said.
Professor Li Jian said the 2015 target is a "pragmatic" one, especially given that China-Russia trade has grown rapidly over the past two years.
Bilateral trade will likely grow 20 to 30 percent on an annual basis in the next five years, he predicted, adding: "Russia can import manufacturing goods and consumer goods from China, and China can buy natural resource from Russia."
Contact the writers at dingqingfen@chinadaily.com.cn and chenjia1@chinadaily.com.cn