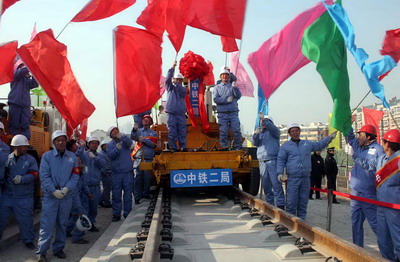 Workers celebrate the completed tracks of the Beijing-Tianjin railway December 16, 2007. [cns]
The Beijing-Tianjin passenger railway Sunday completed laying its tracks, making it possible for the high-speed train to open as scheduled for the 2008 Summer Olympics.
The 120km-long railway is the first in the mainland to have trains that reach 300kmh and will shorten travel between the two cities from about an hour to 30 minutes, with a minimum interval between trains of three minutes, officials have said.
Construction of the railway's signal, telecommunication and electrical supply systems are next in line, after which fast-speed trains will conduct test runs starting from February.
The railway is scheduled to begin operations on August 1, a week before Olympic Games.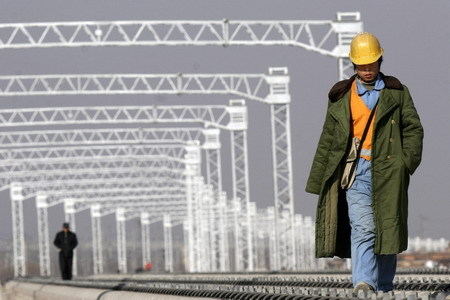 People walk at the construction site of the Beijing-Tianjin high-speed passenger rail line in Tianjin municipality, December 3, 2007. The rail line will be completed by the end of 2007 and put into use before the Olympic Games in August 2008. [Agencies]
There will be five stations along the rail line - Beijing Southern Railway Station, Yizhuang in southeastern Beijing, Yongle and Wuqing in Tianjin, and Tianjin Railway Station.
Its operation will enable more passengers to travel between Beijing and Tianjin, and help speed up the integration of the regional economies of the two major cities of North China.
The Ministry of Railways has said in its mid- and long-term plan that a fast passenger transport rail network will be formed by the year 2020 to link up China's major cities and cities in three regions.
"The completion of laying rail tracks on the Beijing-Tianjin high-speed railway signifies a breakthrough in high-speed railway construction technology that China has mastered," said Liu Zhijun, minister of Railways.
The ministry said that many new technologies were used in the project for the first time in China's railway building history, which together enhances the railway's life span and produces low levels of pollution and noise. Up to 86 percent of the railway is built on bridges.
The Beijing-Tianjin railway has been exemplary for other high-speed railway projects under construction, Liu said.