BEIJING - Sang Guowei, a pharmaceutical expert, was elected chairman of the Central Committee of the Chinese Peasants and Workers Democratic Party (CPWDP), the earliest one of the country's eight non-communist parties, on Saturday.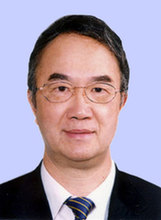 Sang Guowei
The CPWDP elected its new Central Committee at the last day of its five-day national congress.
Sang, 66, told the concluding session of the national congress that the CPWDP would take full advantage of its intellectual resources in the medical field and play an important role in promoting the country's medical reform and environmental conservation.
"The party will carry forward the historical tradition of conducting close and intimate cooperation with the Communist Party of China (CPC) and unswervingly follow the political development path of socialism with Chinese characteristics," said Sang, a native of Zhejiang Province, who is also an academician of the Chinese Academy of Engineering.
The new chairman pledged to follow the CPC leadership and dedicate himself to the socialist cause.
Sang served as vice director of the State Food and Drug Administration between 1999 and 2003 and became the director-general of the China Pharmaceutical Association in December 2006.
A national political advisor since 1988, he assumed the post of the CPWDP vice chairman in 2000. Sang is a member of the Standing Committee of the 10th National People's Congress.
At the CPWDP congress, delegates heard and deliberated a report of the party's 13th central committee, and elected Chen Zongxing, Zhang Daning, Wang Ningsheng, Chen Xunru, Wang Jirong, Liu Xiaofeng, Chen Shutao, He Wei, Yao Jiannian and Yang Zhen as vice chairpersons of the CPWDP Central Committee at the first plenum of the party's 14th Central Committee.
Reviewing the party's work over the past five years, Sang said the CPWDP had made investigations and studies for the strategy to develop the Binhai new area of Tianjin, and for ecological conservation in the Three Gorges Reservoir area and the regions along the middle and upper reaches of the Yangtze River. The party also put forward major suggestions on the development of rural cooperative medical system, improvement of doctor-patient relationship, and building of new socialist countryside, Sang said.
Having spent many years studying and working in western countries, Sang said China's political system and political party system were "fit for China", which unite 56 ethnic groups together and mobilize "various active factors" to contribute to the development of the country.
The CPWDP, originally called the "Provisional Action Committee of the Kuomintang", was founded in August 1930 in Shanghai by left-wing members of the Kuomintang. It adopted its present name in 1947.
The CPWDP now has branches in 30 provinces, municipalities and autonomous regions, with more than 99,000 members. Its members are mainly senior and leading intellectuals in the medical field.