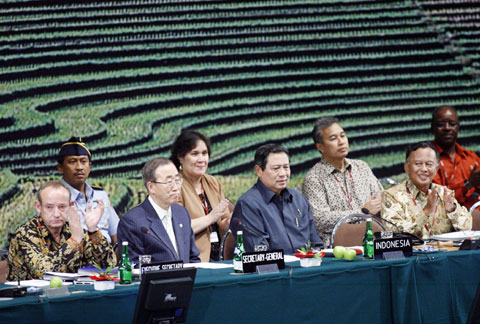 (Front L-R) Executive Secretary of the United Nations Framework on Climate Change Conference (UNFCCC) Yvo de Boer, UN Secretary-General Ban Ki-moon, Indonesian President Susilo Bambang Yudhoyono and President of the 13th session of the Conference of the Parties, Rachmat Witoelar attend at the UN Climate Change Conference in Nusa Dua, Bali island December 15, 2007.  [Agencies]
BALI, Indonesia -- China would take an active and cooperative attitude to make its contributions to climate protection, said Su Wei, deputy head of the Chinese delegation to the two-week UN climate change conference that concluded on Saturday after adopting a roadmap for negotiations for a new treaty.
The climate conference adopted on Saturday a plan to negotiate a new global warming pact, after the United States suddenly reversed its opposition to a call by developing nations for technological help to battle rising temperatures.
Upcoming talks, to be completed in 2009, may help determine for years to come how well the world can control climate change, and how severe the consequences of global warming will be.
"China is making its efforts to cut its energy consumption per unit of GDP by 20 percent from 2006 to 2010. The green efforts also need to be implemented in a verifiable way," he said in a response to the roadmap requirement that developing countries should mitigate climate change in a measurable, reportable and verifiable way.
But Chen Dongmei, director of Climate Change and Energy Program of WWF China, said how to make it verifiable is a challenge for the country's current capacity-building in mitigating climate change.
The US initial opposition to support developing countries in technology, financing and capability-building in a "measurable, reportable and verifiable" way had drawn loud boos and sharp rebukes.
A delegate from Papua New Guinea said: "If you (the US) are not willing to take the lead, get out of the way!"
And the delegate from South Africa strongly recommended the US to reconsider their commitment.
"I have attended the UN climate change conferences in the past four years. I have never seen such a strong push on the US from the international community," Yu Jie, adviser of China Program of Heinrich Boell Foundation based in Berlin, told China Daily.
Su Wei, deputy head of the Chinese delegation to the conference, said: "If compared the roadmap to a bus, I am glad that finally we have the US to be one of the passengers. Now we can go ahead."
But Christopher Miller, climate campaigner from Greenpeace America, said that although the US has become a passenger, it only buys a developing-country ticket, criticizing the US for shouldering less responsibility.
Bali Roadmap
With the United States ultimately acknowledging the groundbreaking concessions by the G77 plus China, a Bali Roadmap by about 190 countries gathering in Bali, Indonesia, was drawn up on Saturday afternoon, ushering a new era of further negotiation on combating climate changes.
"It is a highly compromised agreement," said Meenakshi Raman, Friends of the Earth International and Malaysia in a news conference held by environmental non-governmental organizations soon after the agreement.
For developed countries, including the US, they agreed to "measurable, reportable and verifiable nationally appropriate mitigation commitments or actions, including quantified emission limitation and reduction objectives."
For developing countries, they made compromise to accept the "measurable, reportable and verifiable nationally appropriate mitigation actions in the context of sustainable development."
To fulfill the mitigation goals, the developing countries called for supports of technology, financing and capacity-building in a "measurable, reportable and verifiable" way from the industrialized countries.
The United States initially rejected the demands, but backed down after delegates criticized the US stand and urged reconsideration.
"I think we have come a long way here," said Paula Dobriansky, head of the US delegation. "In this, the United States is very committed to this effort and just wants to really ensure we all act together. We will go forward and join consensus."
Yvo de Boer, Executive Secretary of the UNFCCC said, "We now have a roadmap, we have an agenda and we have a deadline. But we also have a huge task ahead of us and time to reach agreement is extremely short, so we need to move quickly."
European and US envoys ended their duel at about 3 am on Saturday over the EU's proposal that the Bali roadmap suggested an ambitious goal for cutting the emissions by industrial nations -- by 25 to 40 percent below the 1990 levels by 2020.
That guideline's specific numbers were eliminated from the text, but an indirect reference was inserted instead as a footnote.
"The Bush Administration has unscrupulously taken a monkey wrench to the level of action on climate change that the science demands," said Gerd Leipold, executive director of Greenpeace international. "They've relegated the science to a footnote."