KUNMING -- More than 80 teenagers from a southwest China school have been hospitalized after the mystery death of a fellow student in what a senior doctor described as a case of mass hysteria.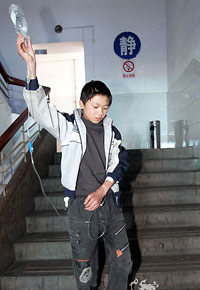 An undentified student receives treatment at local hospital. [clzg.cn] 
Zhou Yuankun, chief of the hospital where the students were treated, said Thursday's incident was caused by panic, fear and anxiety.
Zhou said most of the students were discharged from the hospital late on Thursday or Friday. Those whose parents requested further observation at the hospital, including three students with fever, were showing no abnormal symptoms and were discharged on Saturday.
The students at the No. 2 Middle School, in Dongshan town of Qilin District in Qujing City, Yunnan Province, complained of stomachaches and headaches following the mysterious death of a seventh grader on Thursday.
A 16-year-old, identified only by his surname as Liu, first suffered a headache and vomiting at 2:10 pm and was taken to a clinic in the town, where he died the same day.
Shortly after Liu's death, more than 80 other students complained of palpitations, stomachaches and headaches, and were sent to the Enhong Coal Miners Hospital for medical checks.
Zhou said there was a chaos in the school compound after Liu's death.
"The school canteen didn't serve dinner until 7:00 pm that day, so many students developed the symptoms due to low blood sugar," said Zhou.
A number of students with no symptoms were also sent to see doctors at the request of their parents.
Zhou said three of the students were later diagnosed with fevers.
An investigative group comprising personnel from the public security, health and drug control authorities was set up after Liu's death. They immediately sealed all food and dishes served at the school canteen for tests, but ruled out the possibility of food poisoning after finding nothing abnormal.
Additional tests on Liu's stomach and some bread left in his pocket, as well as an autopsy, also ruled out the possibility of a food poisoning.
However, doctors identified signs of a brain haemorrhage and further tests were begun on Friday night to establish the cause of death. The results are not yet known.
A source with the local government said the authorities reacted swiftly as local media had been running reports suggesting food poisoning following Liu's death. All the students were asked how they were feeling and those who said they felt discomfort were sent to hospital.
Chen Taoxian, a girl from the Liu's class and one of the three students diagnosed as ill, was actually suffering from flu.
"She looked pale with parched lips, complaining of difficulty sitting down when I met her at the hospital," said her mother.
Chen was treated for a heavy cold at Enhong Coal Miners' Hospital. "I felt much better after the treatment," said Chen, who was discharged early on Saturday.