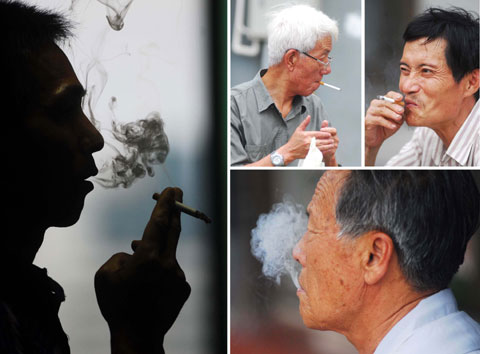 A combo of smoker photos taken on the World Tobacco Free Day on May 31,  2007. [newsphoto]
Factors ranging from local protectionism to lack of legal support are barriers to anti-smoking campaigns despite the government's stepped-up efforts, a top legislator has acknowledged.
Han Qide, vice-chairman of the Standing Committee of the National People's Congress - the country's top legislature - said the country faces a dire situation with more women, especially professionals, and youngsters taking to smoking - which directly or indirectly kills 1 million Chinese a year.
The government is concerned and has taken a slew of countermeasures, Han told a forum on smoking control over the weekend.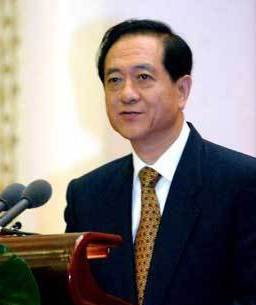 Han Qide
"However, due to ground realities prevalent in our society and economy, tobacco control in China is more complicated that in any other country," he said, citing several problems.
From a legal perspective, there is no law which specifically bans smoking in public, although some public venues do so.
For example, only the Law on the Protection of Minors stipulates nobody is allowed to smoke indoors in primary and junior middle schools, kindergartens and nurseries.
Local regulations on smoking bans in public areas are common, but are rarely implemented, Han said.
From an economic standpoint, the tobacco industry has long been a key source of tax, which accounted for about 240 billion yuan ($31.4 billion) in 2005, 10 per cent of total State revenues, official statistics show.
Additionally, the industry sustains the livelihood of millions of tobacco farmers and also provides a great number of jobs in the production and distribution of cigarettes.
At the local level, the situation is even bleaker as some provinces rely mainly on the tobacco industry as the main cash cow, Han said.
That's probably the reason why China has so many tobacco enterprises, Han said.
To redress that, Han urged governments at all levels to drop short-term monetary incentives; and control tobacco and smoking for the sake of public health.
China - with 350 million smokers - is the world's largest producer and consumer of tobacco, accounting for more than a third of the global total on both counts.