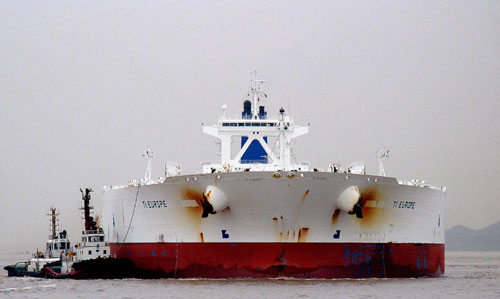 A foreign oil tanker sails near the coast in Zhejiang Province in this March 30, 2007 photo. China is now expanding its fleet for the transportation of imported oil. [newsphoto]
China's fast-expanding oil tanker fleet is expected to shoulder half of the transportation of imported oil by 2010, experts have said.
Luo Ping, a researcher with the Institute of Comprehensive Transportation (ICT) affiliated to the National Development and Reform Commission, said domestic shipping companies have been encouraged to expand the oil transportation market in the past years to help guarantee economic security.
Recent studies by the ICT showed that Chinese-operated tankers should transport at least 60 percent of imported oil to ensure supplies. But domestic tankers last year shipped only 16 percent of oil imported by China, ICT figures showed.
"Based on our studies, we recommended in 2000 that it should be a long-term goal to have 60 percent of China's imported oil shipped by domestic companies by 2015," Luo told China Daily.
The country imports more than 130 million tons of oil each year, about 90 percent of which is transported by ship. It has made China, the world's second largest importer after the United States, vulnerable to transportation costs and other uncertainties such as war.
Given the huge potential of the market, almost all major domestic shipping companies have rolled out ambitious plans to expand their fleet.
"Major shipping companies have all carried out plans to increase oil transportation capacities," Luo said.
Almost all of China's major shipping companies have set a target of at least doubling their current imported oil transportation capacity by the year 2010.
The China Ocean Shipping (Group) Company (COSCO), for example, said it planned to have an oil transportation fleet totaling 10 million deadweight (dwt) tons by the year 2010, up from the current 5.07 million dwt tons.
The expanded fleet will be able to transport 35 million tons a year, accounting for more than 15 percent of China's imported oil transport in 2010 and up from the current 8 percent, said COSCO vice-president Zhang Liang.
"We have already placed orders to build new tankers totaling 2.4 million dwt tons. The rest will be achieved through rents and more purchases," Zhang told China Daily.
Another major player, China Shipping Development Co Ltd's Tanker Company, said it planned to expand its oil transportation fleet to a scale of 8.5 million dwt tons in 2010 through buying and renting, up from the current 3.9 million dwt tons.
The general manager of the tanker company, Mao Shijia, said the firm has orders for new tankers of 3.5 million dwt tons.
The expanded fleet, including at least 12 to 14 very large crude carriers, will help the company take up around 15 per cent of China's imported oil transportation market, up from the current 5 percent, Mao said.
Both companies forecast that domestic shipping companies will be able to transport 50 percent of China's imported oil in 2010.
At the same time, the authorities have expressed some concern that their new oil tankers are not flying Chinese flags.
The deputy director of the Water Transport Department of the Ministry of Communications, Zhang Shouguo, said the ministry would prefer more Chinese ocean-going ships to fly Chinese flags instead of flags of convenience.
Zhang said the country needs to have better command over shipping to safeguard economic interests.
To that end, the ministry has introduced a two-year policy granting tax exemption for ships of certain types - including oil tankers between four and 12 years old in July this year - if they come back and register at home.