Core socialist values
Core socialist values are the soul of cultural soft power...Basically, the soft power of a nation depends on the vitality, cohesive force and charisma of its core values.
—President Xi Jinping addressed at a group study of the Political Bureau of the CPC Central Committee Feb 25, 2014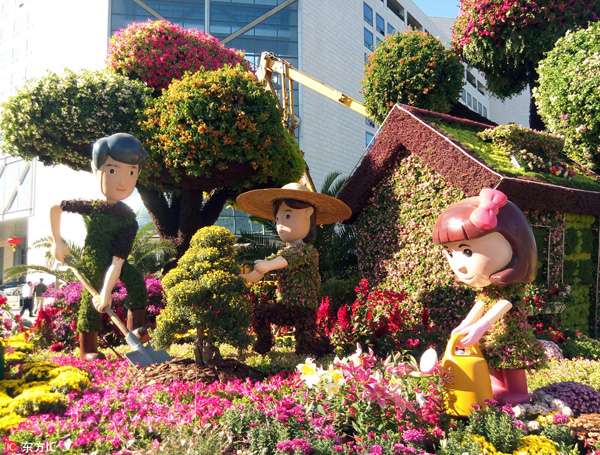 Part of the floral decorations for National Day along the Chang'an Avenue in Beijing, Sept 28, 2017. [Photo/IC]
The genesis
Core socialist values comprise a set of moral principles summarized by central authorities as prosperity, democracy, civility, harmony, freedom, equality, justice, the rule of law, patriotism, dedication, integrity and friendliness.
This doctrine has been encouraged by the Communist Party of China (CPC) since its 18th Party Congress in late 2012. It has evolved into a national campaign to rebuild faith amid concerns that the world's second-largest economy has lost its moral compass during its three-decade economic miracle.
The implementation
To bolster core socialist values and pooling positive energy to realize the Chinese dream of national rejuvenation. The Communist Party of China (CPC) issued guidelines for practicing core socialist values on Dec 23, 2013.
"Core socialist values should be included in the overall national domains," said the guidelines. "Core socialist values should be incorporated into the curriculum and classrooms and made a way of thinking for students."
News, publishing institutions and their personnel were encouraged to strengthen self-discipline and enhance their sense of responsibility and their ability to promote core socialist values. The core socialist value asked radio and television stations to run more public service broadcasts spreading mainstream socialist values at prime time, and newspapers should give more prominence to such issues.
To cope with the fast development of the Internet, "efforts should be made to manifest core socialist values in Internet publicity, culture and service, so as to use a positive voice and advanced culture to capture the online front," the guidelines said.
The guideline also ordered strengthened management of the Internet in accordance with the law and a fight against obscenity, online rumors and criminality to make the Internet environment clean.
Integrity should be enhanced in government, business, society and judicial fairness, and special projects on moral education should be carried out, according to the guidelines.
Various volunteer activities should be organized to promote the spirit of Lei Feng, a young Chinese soldier, known in the 1960s for devoting almost all of his spare time and money to selflessly helping the needy.
The national flag should be displayed and the national anthem played and song on major occasions. More importance should be attached to traditional Chinese festivals.
More free public museums, memorial halls, libraries and science and technology museums are needed to promote core socialist values, the document said, adding that red tourism should be developed vigorously.
Source: Xinhua