Mei Ting takes on new role for children with disabilities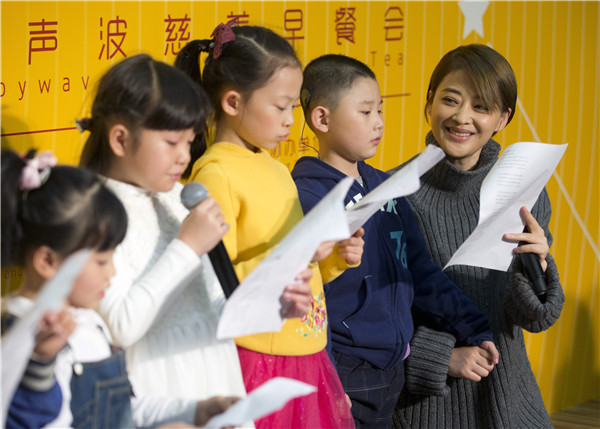 Actress Mei Ting attends a charity event in Beijing to help children with hearing impairments. Photo by Feng Yongbin/China Daily
Chinese actress Mei Ting has played many complex roles on screen in the past two decades.
In the 2001 TV drama, Don't Talk to Strangers, which revolves around domestic violence, she was a battered wife. Then, she appeared as a masseuse in the film Blind Massage, a big winner at the 2014 Golden Horse Awards held in Taiwan.
The film also won her a best actress nomination at the Berlin International Film Festival the same year.
Of late,Mei, 41, has added a new off-screen role as an advocator of children's public health.
On Dec 3, which is marked as the International Day of Persons with Disabilities, Mei appeared at the Beijing Record Factory in a hutong (alley) to record poems along with children with hearing problems.
They read poems such as Farewell to Cambridge by the late Chinese poet Xu Zhimo.
The recordings are part of a project called Joy Wave by China Children and Teenager's Fund, a local nonprofit founded in 1981.
"Motherhood has changed me. I now want to speak for underprivileged children," says Mei, whose daughter is aged 4 and son is 1 year old.
"I feel connected with parents who share anxiety about their children's health with me."
The soft-spoken actress says she was short on patience earlier but since her children came along, her outlook toward life has changed.
According to Zhu Xisheng, secretary-general of China Children and Teenager's Fund, among the country's earliest foundations to help children with disabilities, there are currently more than 130,000 children with hearing impairments under the age of 6, and every year, the loss of hearing is reported in more than 20,000 infants.
Mei is the first celebrity to join the project, but more are likely to record their voices for it,which is a good way to bring public attention to children's health issues, Zhu says.
The film, Blind Massage, also gave Mei a closer view of the hardships faced by people with disabilities.
"We spent months living with them and they were funny, smart and positive although they couldn't see," says Mei of the film's shooting in 2012.