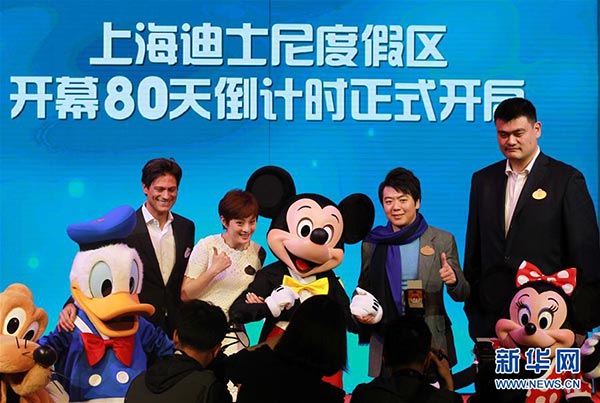 Sun Li, Lang Lang and Yao Ming are introduced as Shanghai Disney Resort's Honorary Ambassadors on March 28, 2016 in Shanghai. [Photo/Xinhua]
General Manager Philippe Gas teamed up with the trio onstage, pushing a Mickey Mouse-shaped button, signifying the official start of the 80-day countdown to the Grand Opening of the new park.
He also elaborated on the crash of the resorts' online ticketing system.
"You might have heard or maybe even experienced the fact that the volume of visitors overwhelmed our system for a short period of time. All the ticketing systems are now back up and running. And we're glad to welcome our guests to the grand opening of the Shanghai Disney Resort."
Shanghai Disney Resort will open on June 16.
Related:
Shanghai Disney Resort start pre-ticketing Mar 28