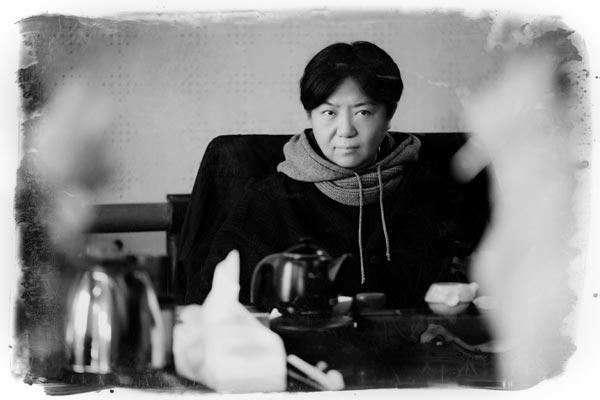 Director Tian Qinxin at a rehearsal of her latest play Romeo and Juliet. Xie Fei / For China Daily
What They Say
I was impressed by Tian's play Between the Living and the Dead when I returned to China from the US in 2005. I never expected that China had such innovative contemporary theater work. Tian is a director of rare talent. Green Snake is really an interesting and thoughtful play and I enjoyed translating it into English.
Yimin Foo, a partner at an international M&A boutique in Shanghai, who translated the script of Green Snake into English to use in the US production
Tian Qinxin is one of the most important directors in China's contemporary theater. I like her work Green Snake very much. Her interpretation of the old Chinese myth is interesting and unique. I believe the Western audience will appreciate it, too.
Alison M. Friedman, founder and creative director of Ping Pong Productions
Tian is the best theater director in today's China. She is good at telling old stories in a modern way. She knows what young people enjoy.
Li Dong, producer of the National Theater Company of China
Before going to watch the opera La Boheme at the Metropolitan on April 2, director Tian Qinxin walked along bustling Broadway like any first-time tourist in New York. As she dropped into a small book store, a poster on the wall caught her eye immediately. It was Ute Lemper in the musical Chicago.
Lemper played the role of Velma Kelly in Chicago in both London and New York, winning the Laurence Olivier Award for her performance. Tian loves her so much that she wanted to buy the poster. "Sorry," the owner said. It was his own treasure collected eight years ago. But he allowed her to take a photo.
That pleasant surprise Tian had at the small store was just one highlight of her first trip to the United States.
Tian used to believe she had a certain bond with the United Kingdom, because it was the first foreign country she visited in 1993. She returned there several times and watched a lot of shows, and she also worked on a young playwright workshop project with the National Theatre of Scotland in 2012.
But she was "overwhelmed" when she realized that two of her major works would run in the US almost at the same time. One represented China in a show at the prestigious Kennedy Center for the Performing Arts in Washington. The other toured Los Angeles, San Francisco, Houston and New York for seven shows.
From March 27 to 30 at the Kennedy Center, her production Green Snake immersed the audience in an old romantic Chinese myth that involves two female snake spirits who take human form and respectively fall in love with a scholar and a monk. The result leaves both goddess and mortals beyond redemption.