Justin Bieber allegedly celebrates egg pelting in security video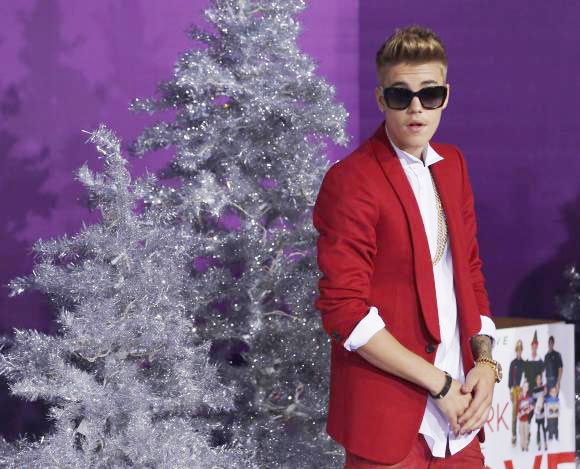 Singer Justin Bieber poses at the premiere of the documentary "Justin Bieber's Believe" in Los Angeles, California December 18, 2013.[Photo/Agencies]
Home surveillance footage appears to show pop singer
Justin Bieber
 celebrating and laughing with friends after allegedly pelting a neighbor's home with eggs in January, according to an affidavit filed by the Los Angeles County Sheriff.
Bieber, 20, has not been charged with a crime in the case, but if he were, it could complicate the pop star's other current legal proceedings in Miami and Toronto.
Bieber's residence in Calabasas, California, north of Los Angeles was searched by authorities on January 14 in the vandalism case and the affidavit was filed last month to obtain a search warrant for the singer's Instagram photo-sharing account.
The affidavit, released on Friday, said Bieber is observed to be "high-fiving" with a group of males and "Bieber and the other males appeared to be laughing and celebrating," the affidavit said.
The neighbor alleges that Bieber threw raw eggs at his home. If investigators determine that Bieber might have caused more than $20,000 in damage to the home, he could be charged with a felony.
The singer's trial in Miami on driving under the influence, resisting arrest and using an expired license charges is set to begin in July. In February, Bieber was charged with assaulting a limousine driver in Toronto.
The Canadian singer has since moved from his home in suburban Los Angeles.
Los Angeles Fox television affiliate KTTV-TV first reported the search warrant for Bieber's Instagram account, which investigators are using to try to determine that a man in the grainy surveillance footage is Bieber.
Detective Ginni Alvarez said in the affidavit that Bieber is wearing the same white sweatshirt in the surveillance footage and in a photo posted that day on Instagram, which is owned by Facebook Inc.
Bieber's attorney, Howard Weitzman, did not respond to a request for comment.