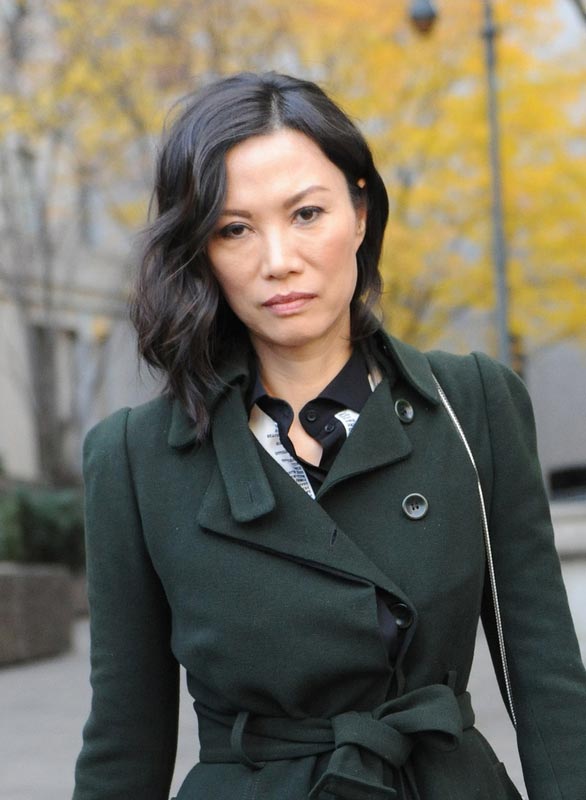 Wendi Deng Murdoch exits State Supreme court, Wednesday, Nov 20, 2013, in New York. Deng Murdoch, and her husband, Rupert Murdoch, aid they were parting with "mutual respect" Wednesday after telling a judge they had reached a divorce deal. [Photo/Icpress]
Rupert Murdoch and his wife, Wendi Deng Murdoch, appeared before a Manhattan judge on Wednesday in a 10-minute hearing that cleared the way for ending their 14-year marriage.
"I'm glad you were able to resolve these matters amicably," New York State Judge Ellen Gesmer said to the media mogul and his wife after asking if they were satisfied with settlement.
After the session, Deng, dressed in a dark-green coat and navy skirt, crossed the courtroom to hug her soon-to-be ex-husband, the chairman of News Corp and 21st Century Fox.
Key details of the agreement were not revealed, but a person familiar with the terms of settlement said Deng is expected to keep the couple's home in Beijing and their Fifth Avenue apartment in Manhattan, purchased in 2004 for a then-record $44 million.
William Zabel, an attorney for Deng, and Ira Garr, representing Murdoch, were seated next to their clients.
Murdoch, 82, filed for divorce from Deng, 44, in June citing that their marriage had been irretrievably broken, according to his spokesman at the time. He made the move weeks before he was set to split his media and entertainment empire into two separate companies.
Deng met Murdoch in 1998 when she was a junior executive at News Corp's Star TV in China and served as his interpreter during a business trip.
While the divorce is not yet final, the procedural hearing was one of the key steps necessary for the couple to part ways.
Related:
News Corp's Rupert Murdoch files for divorce from wife Wendi