Singer Chris Brown ordered by Los Angeles judge into 90 days of rehab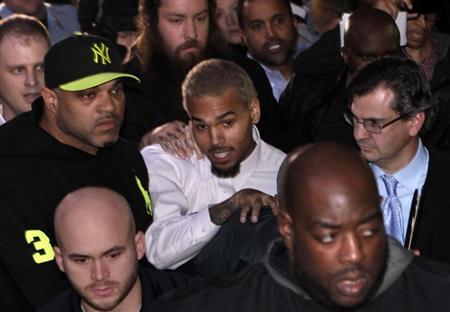 Rapper Chris Brown (C) leaves the US District Court in Washington October 28, 2013.[Photo/Agencies]
A Los Angeles judge on Wednesday ordered R&B singer Chris Brown to complete a 90-day substance abuse and anger management program, capping a probation hearing that followed the Grammy winner's assault charge in Washington, D.C., last month.
The judge also requested more information about the arrest to determine whether the 24-year-old singer had violated the terms of his probation.
Brown was placed on five years' probation as part of his 2009 sentence for assaulting fellow R&B singer and girlfriend Rihanna. He also was ordered then to perform 180 days of community service and undergo domestic violence counseling.
In addition to the latest order for rehab, Brown will have to serve at least 24 hours of community service a week, submit to periodic drug testing and take prescribed medication, Los Angeles Superior Court Judge James Brandlin ordered.
The singer responded "yes" when the judge asked if he accepted the modified terms of probation.
While Brown is to remain in Los Angeles County, the judge said the performer would be allowed to travel to Washington for court dates related to the assault charge, the next of which is set for Monday.