Oprah tops Forbes most powerful celebrity list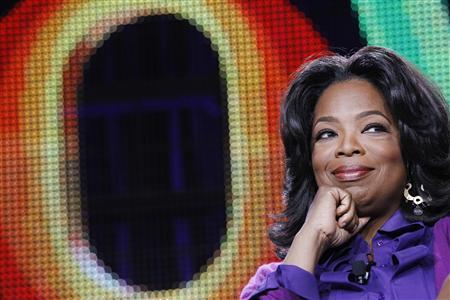 Oprah Winfrey attends a panel during the Oprah Winfrey Network (OWN) Television Critics Association winter press tour in Pasadena, California in this January 6, 2011 file photo.[Photo/Agencies]
After two years as a runner-up, Oprah Winfrey was named the most powerful celebrity on Wednesday by Forbes, heading the six women and four men who make up the top 10.
It was the fifth time the former talk show host who runs her own TV network has headed the annual ranking of 100 celebrities.
Singer Lady Gaga came in second, followed by director/producer Steven Spielberg and singers Beyonce and Madonna.
"There is nobody else with that kind of consistency and power," said Dorothy Pomerantz of Forbes.com. "There are only three people who have been on every single one of our lists since 1999. It is Oprah, Howard Stern and Steven Spielberg."
Singer and actress Jennifer Lopez, who was No. 1 last year, dropped to 12th place.
With earnings of $77 million from June 2012 to June 2013, Winfrey was not the highest earning celebrity, an honor that went to Madonna who made $125 million. But Forbes said Winfrey's position in Hollywood and her presence in the press, on television and in social media propelled her to the No. 1 spot.
"She still wields an enormous amount of power, which is really what we look for in our fame matrix. She is taking this cable network and turning it around just through the sheer force of her will, her connections and her ability."